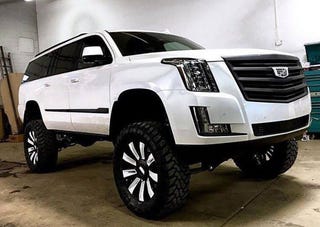 Here's the scenario: baby number two is coming in December. The Mrs. wants to stay home for a year or two afterwards, meaning we have to wave goodbye to the company-provided RAV4 and purchase her a vehicle.
But what should I buy? She disliked the 2004 Volvo V70, and honestly it was cramped (think: rear facing car seats, 6'7" dad, 5'10" mom). My Suburban fits everyone nicely, but it's a total gas pig, so I try to limit how much I drive it outside of the necessary evils of having to go to work every day or having to tow stuff. Not to mention, it's yuuuge and therefore a bit "much" for her to drive and park. So, something in-between?
The criteria: reasonably reliable/easy to work on, comfortable with lots of leg/head room, preferably quiet (the RAV4 is a tin can... the amount of road noise in that thing gives me a headache), reasonably fuel-efficient, and preferably sub- $8,000. Oh, and being 6'7", I don't really want to bend down a whole lot to put kiddos in car seats!
I hate the current RAV4, but the previous generation has aged well. Minivans are hard to find in decent nick for the price. A jeep Commander is lovely, but a bit thirsty and hard to find a good one for my price point, I know nothing about Subarus other than the newer Outbacks are super comfy... Give me ideas for a boring kid-hauling appliance!