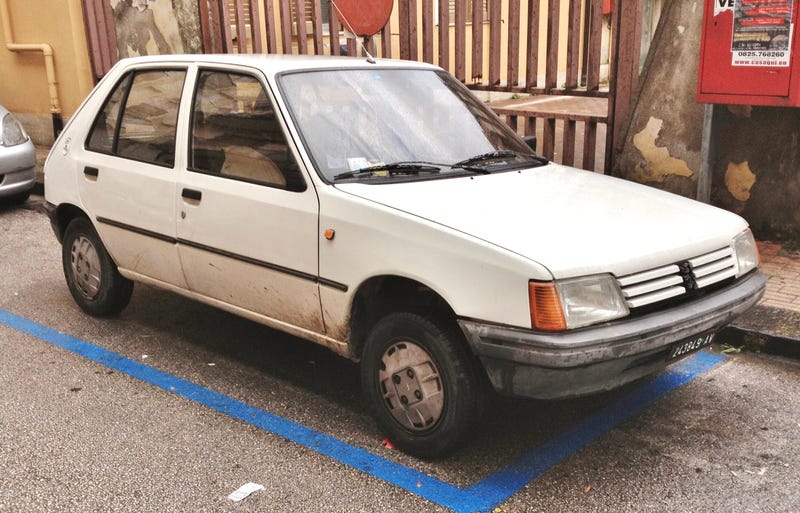 Safety
It has seatbelts. That's about it
2/10
Performance
This is an 1100cc car with 150,000 km on the clock. Performance is, shall we say, mild. You can get it up to 130 kmh on the autoroute should you wish to take your life in both hands. It would have been easier when new, but by now the car becomes alarmingly noisy at 105 kmh and tends to vibrate. Oddly if you get up to 130 it becomes relatively better in that you seem to leave the noise behind.
3/10
Economy
Four speed box and petrol engine but it weighs nothing so an easy 40 mpg (Imp) or about 7 l /100 km
6/10
Ride
Surprisingly good. The 205 isn't designed, at least in basic form, for sporty handling so it's rather comfortable. More cars should be designed this way. Please.
8/10
Audio
Basic radio, can barely hear it over all the various noises. The said other noises aren't too melodious either.
2/10
Toys
Doesn't have any. The driver's door mirror is adjustable from inside, so there's that.
1/10
Handling
This is a car designed for comfort, not sportiness, but it goes well enough considering its condition. No power steering but no weight either so easy to manoeuvre and no nasties like violent under or oversteer.
6/10
Practicality
This is a small car but at least it's the four door version. It's handy enough with enough space for four adults at a pinch.
6/10
Reliability
It didn't actually break down while I had it. It did almost fail to proceed because old battery and cold weather.
7/10
Living with
Living with an old, cheap car has its difficulties especially with cold weather and a dodgy battery. One day it threatened not to start but on returning to it after an hour I took it by surprise and coaxed life into it. Note that it's equipped with what the French call un starter, a manual choke, which may or may not help. The youths won't know what this is. Later that day I discovered that the lack of a lights on warning buzzer (see above, no toys) results in a flat battery if you park with the lights on. You then bless the manual box which enables the auxiliary starting system (a group of strapping youths in the nearby bar) to be engaged.
5/10
Overall score: 46/100