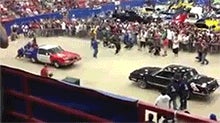 With the OppositeStock game under way, the first week was one hell of a rumble and tumble. According to one article, the average investor is down 5.1% for the first week. Which isn't a lot if you don't have too much skin in the game. Maybe the market will bounce back if this is a result of the bad news from China. Without further ado, here are the top 10 rankings to end the week:
First off, I'd like to thank everybody who has joined so far! We have 35 players, but we are missing 5 from the rankings leaderboard! I hope those 5 initiate some trades soon so they can appear on the rankings.
The day kicked off the morning with most of the top 10 in the positives, but as the hours progressed the market caused most everyone to drop into the red. 26 Opponauts finished with less than the $2500 starting balance, which just goes to show how horrid the market has been.
That left only 4 of us wrapping up the week with three of us growing a wide gap between everybody else.
Rainbow was engaged in some volatile rank changes with a penny stock, and Jonathan has a short on CMG going extremely well in his favor. Jonathan was initially in the lead for two or three days.
I was steady in third, initially starting the day at $2600, then began swapping to fourth several times fluctuating between $2,550 and $2,560. I amounted a high number of trades as I was researching some long term stocks for my preferences. I left for the morning and came back 15 minutes before the market close to see one of my short-term stock picks skyrocketed and I made out like a bandit. I did not expect my pick to net me $880, considering it was high risk and little gain and anticipated only ~$100.
I'd like to add in that everybody's favorite darling from the previous game, AKA, AMZN, is down nearly $86, or around 13.5%!
If this has caught your interest and you'd like to join in on the game, head right on to over here! You can also view the first day's rankings post I made here.