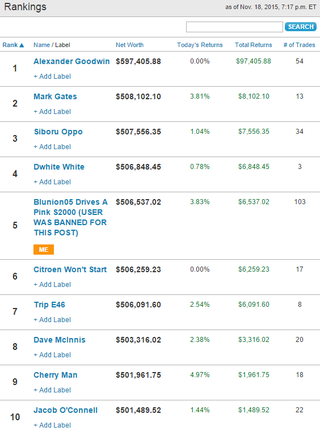 Stocks were moving down towards the end of last week, but this week stocks are up again. Today, for the first time since the game was started there are no players in the red in the top 10. With only two weeks remaining until the end of the game, it's going to be extremely tough to rack up a lead like Save The V8s has, standing almost $90k ahead of 2nd position.
I was in the red ever since I started the game. In fact, I was so bad at the beginning that I had to make a second account.
If you're interested in playing this stock market game with fellow Opponauts, I'll be starting my own up on January 1 (which will last for 365 days). I've written up a post about it that will be published on the first of December, however if you know how to view queued posts, you can go and see it for yourself now.
If you can't wait to play with fellow Opponauts and want to get some experience with the two weeks remaining in the current game, sign up and join the game! The password is "puffalump".