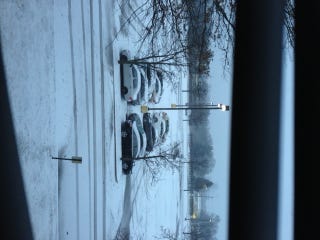 Good morning Oppo! Cincinnati/NKY got what I would call the first "serious" snow of the year. Which means making my normal 35 minute commute to work roughly an hour and 15 minutes. This is also my first winter with the Speed6, and I am loving every minute of it. In preperation for winter, I installed some CorkSport mudflaps cause rallycar! They definitely aren't as big as the RallyArmor mudflaps, but they really help keep dirt/salt off the car.
Now, coming from a 97 auto corolla that was light on its feat and didnt have any driver assists, this thing is light-years ahead of that. I will definitely miss how tail happy the corolla is. But the MS6 handled the 1-2 inches on the road this morning like a champ! (After turning off the DSC of course.) I really couldn't get the rear to break loose at all.
Now as this is my first car that I "own", and plan to keep and play with for a while. I need new tires... bad. The current Continental Extremecontact DWS's in the front are pretty close to the end of their life (backs are newer). I plan on getting dedicated summer/winter tires next year, as this year it just wasn't in the budget. Im getting married in 3 months and just signed the contract on house.
With that Oppo, I pose the question. What is the best all-season tires that you have used. Just taking a quick peek on TireRack, the top three choices for A/S tires are the BF G-Force Comp-2 A/S, and both the Conti EC DWS 06/Conti EC DWS (what I currently have on the car. The BFG's are the cheapest price of the 3 at ~$120/tire.
Any thoughts or Oppo-pinions would be great!