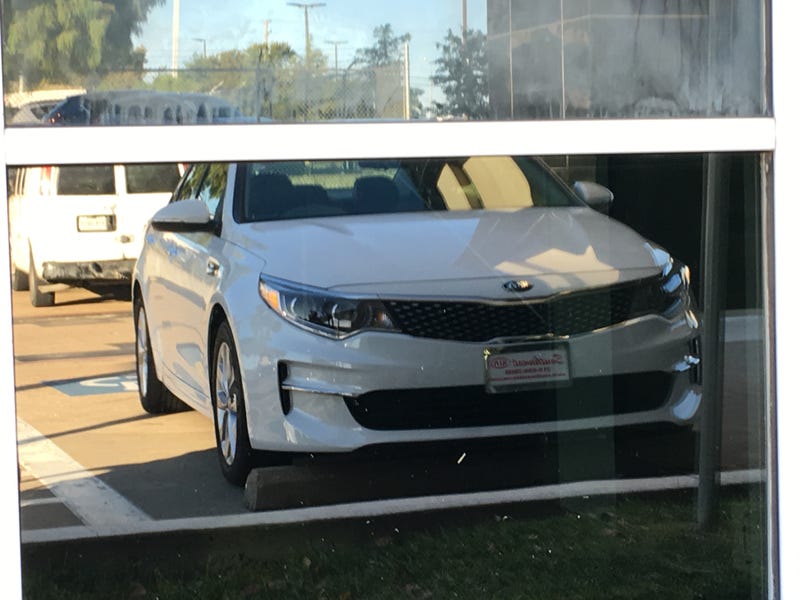 While my K900 was at the dealer getting new wheel bearings, I had a loaner Optima for a day. Anyone interested in what it was like? Read on.
Exterior
My car came in a pearlescent metallic white. I consider white to be my second least favorite car color after gray, but this looked good in the sun. Still, I think I preferred previous generations better. In this color and in this trim, the car looks like a fairly boring mid size sedan.

Interior
The inside is a curious mixture of cheapness and luxury features. On the plus side, the meaty steering wheel feels good, has easily used controls, and is heated. The instrument cluster is simple, but useful. The display between the guages is the size of a postage stamp, but has everything needed. I assume it's larger in the higher trims. The seats, rather than being cloth at this level, are a rubbery-feeling pleather, are also heated, and have memory settings for the driver's side. The dash is also rubbery. Aside from the obvious touch surfaces, there is plenty of hard plastic. This all sounds like I think it's bad, but I don't really. It's all well constructed and solid, just priced down market from what I'm used to. My Sedona's materials are much higher quality, and my K900 above that. So, I bet it's just that this is the EX trim.
The infotainment system screen is also small, but it's useful. One thing I really like is the way it puts radio presets on the touchscreen for easy access. The sound system is adequate. It's a little tinny on the high end, but I got plenty of bass out of it for pop music.
Driving impressions
The 4-cylinder is the little engine that could. It's got a good amount of pep. I never wanted for power out of a light or on an on ramp. It also has a cute little growl, like a puppy trying to be fierce. The 6 speed transmission shifts well and kicked down readily when I needed it. It has a manual mode, like everyone does now, and I tried it it's pointless. Cornering was as confident as acceleration in normal traffic, and stability at highway speeds was good. There was the normal amount of tire and wind noise, but I could comfortably do a road trip in this car.
All in all, a decent mid sized sedan. But, I'd still rather have a Mazda 6.