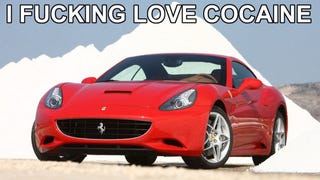 On Tuesday afternoon, the DEA raided Classy One Auto sales in Orlando Florida on suspicion of drug trafficking. Over twenty cars were confiscated by drug enforcement agents...sadly there were no Ferraris among the vehicles.
From WTV9 News-
According to a 61-page criminal complaint, search warrants were issued for the business and for Montas' apartment in Orlando. The documents stated Montas and others were involved in drug trafficking and would use the dealership to store and distribute kilograms of cocaine.

DEA agents said they recorded conversations on cellphones, and they recorded Montas saying business was good; — referring to the business of trafficking cocaine.

The bust stemmed from an investigation in February when the man who owns the car dealership was arrested in a cocaine trafficking case.

Investigators said he was known to put cocaine in hidden compartments in cars and in the floor of his business.
Wait the dude's name was Montas? That is awfully close to Montana-