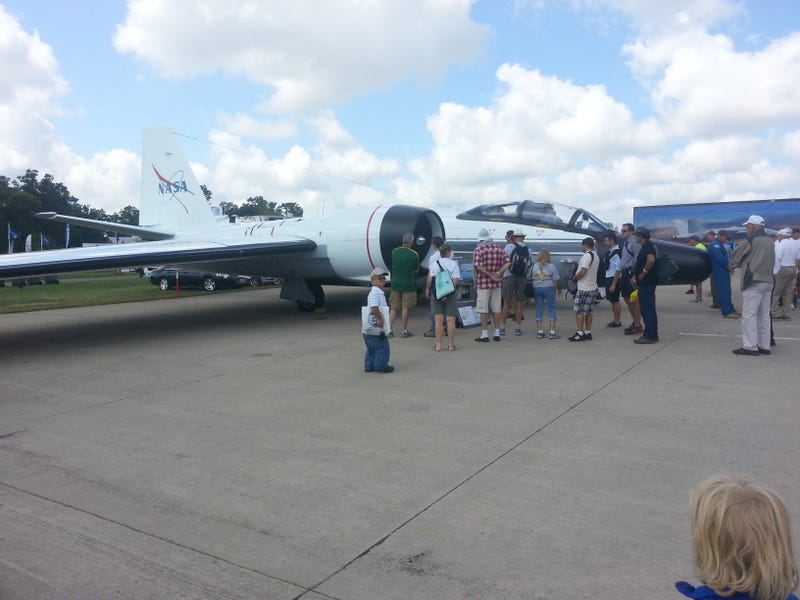 AirVenture is quite possibly the most over the top event I've ever been to. From the Ford TriMotor pretty much constantly landing and taking off with new passengers having forked over their $75, to the five or so helicopters in the air constantly giving rides, to the thousands of planes parked with their owners tents right next to them, the whole thing is surreal. And all I had was my measly smartphone to take pictures with, which was, of course, dying from low battery.
Honda had a huge tent for the celebration of their entry in to production. Oddly, the highlight of this was pretty much Honda's ASIMO demonstration.
Super Sonex was on hand with a gaggle of planes with a pair of their new Super Sonex planes on hand.
I love the old Rutan designs, including these little gems.
Also on hand was the new cirrus SF50. The fuselage is a lot bigger around than I would have expected, but otherwise the plane is just awesome.
It's hard to convey photographically how massive the nacelles on the VF22 are, but for reference, they absolutely dwarfed the nacelles and props on the B-17 that was parked immediately to the right of it.
NASA's U-2 variant was also on hand, and here, again, the fans on this thing are massive. Since most of the stuff is civilian or propeller-driven warbird, the huge jets on what I tend to think of as a (very) specialized glider are striking.
EDIT: Actually a WB-57 Canberra. NASA does have an ER-2, but this is a different plane. Oops!