EAA AirVenture fly-in and Airshow, aka Oshkosh, is right around the corner. For one week, its the country's biggest airshow and the world's busiest airport handling over 25,000 traffic movements. If you'll be there, please share a photo from the opposite side of the famous brown archway.
The Experimental Aircraft Association (EAA) is an aviation advocate organization that was originally started to help those who were interested in building their own airplane, but has since expanded its mission to all sectors of general aviation. EAA hosts the fly-in every year at its home base in Oshkosh, WI, where you can expect to experience dazzling displays of aerobatics, informative programs and hands-on workshops, diverse aircraft spanning all eras of flight, concerts, and much more.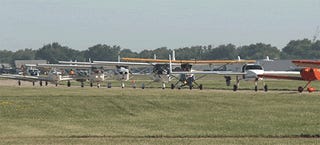 I've heard confirmation from several others who will be there, so please share all your Planelopnik goodness for everyone to enjoy.
Paul Thompson from Flight Club will also be there and is interested in hearing your story, so please contact him if you have a cool angle.
I'll be at Oshkosh for the third time this year. My last visits were in 2010 and 2012, for only about 8 hours each time. I'll be covering it for Flightclub and would like to meet any of you who will be there. I'll be attending the show from 7/28 to 7/30. Feel free to email me at paul@jalopnik.com