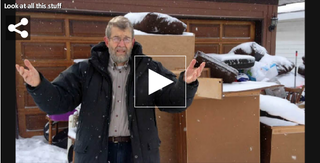 I love this city for the stupid shit that happens here. This guy woke up to find a bunch of stuff in his driveway, which was apparently dumped by a U-Haul overnight. Contents include:

An unopened Wii console.
A probably overdue book from the Kingston Frontenac Public Library.
Some kind of a cupboard.
A box of billiard cues.
Children's toys.
A package containing 200-300 CDs.
Once again, Ottawa problems.