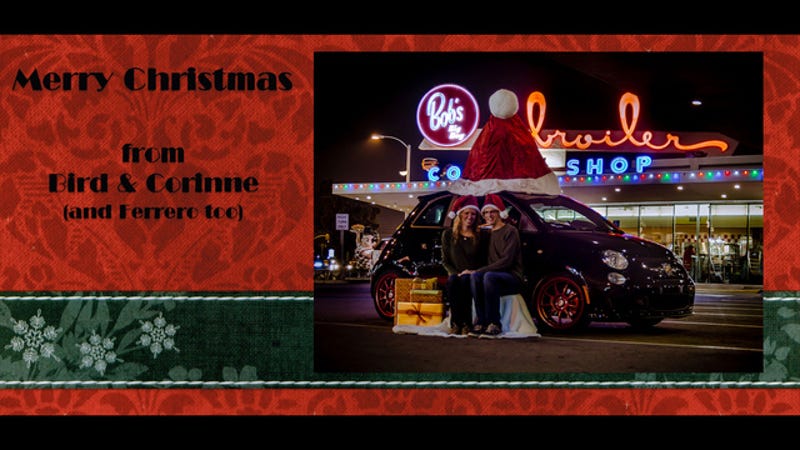 Merry Christmas everyone! Last year my girlfriend and I started the tradition of including our love of cars into our Christmas card, and since we live in Southern California we've made that a part of it as well. Last year it was the beach at sunset, and this year we chose Bob's Big Boy Broiler in Downey. Originally Harvey's Broiler, then Johnie's Broiler, this SoCal icon has an amazing story.
Before I get too far into the Harvey's-Johnie's-Bob's story, I'll explain how this Christmas card tradition got started. In 2012 my girlfriend Corinne (Ferrero1911) bought her Abarth, and named it Ferrero. She was excited at having her first new car, and just how amazing it is. All the sudden she's on Facebook posting pictures of the car, and talking about meets, etc. Corinne's sister decided to poke fun a little, and started calling Ferrero her nephew and saying all she ever see's on Facebook are "pictures of her friends' babys and Corinne's car". Since we don't have kids, our families thought the card was hilarious, and a tradition had begun.
So now on to this year's card. We had a couple ideas, but eventually settled on the Broiler. The Mid-Century Modern and Googie architectual design gives off the cool SoCal vibe we wanted, and we're actually lucky it's here at all. Not being a native Angelino, I didn't know about the place. By the time I moved to LA it had become a used car lot, and the diner had been almost completely gutted. The first I heard about it was from a post on the H.A.M.B. by Cyclone Kevin, "Harvey's Broiler Razed Illegally!!!!!!!!!!!!".
I've gotten ahead of myself though. There's a lot of history before that ever happened. In 1958 Harvey and Minnie Ortner opened the Broiler on grounds formally used as a poultry farm. It sits on the outside corner of a bend in Firestone Blvd.
"They bought the chicken farm because Harvey foresaw that it would be the best location for a restaurant you can imagine," Carter said. "Firestone Boulevard takes a very significant, sharp turn there at that location. "

"Harvey envisioned 'Harvey's Broiler' in red script that would be visible for a mile in either direction at night, and it was. It looked as though the road dead-ended right at the restaurant because it was such a sharp turn there: It looked like the only thing you could do is drive in."
Tom Carter-Nephew from the LA Times
The early '60's was Harvey's heyday. The diner was open 24 hours a day with car-hop service until 4am, later changed to 2am at Downey's request due to traffic. Unfortunately due to Harvey's health, the Ortners sold the Broiler in the late '60's. That's when it picked up the name Johnie's Broiler. Johnie's came from an interim owner named Johnson. The deal with Johnson was never completed, but the sign was, so it stayed. Eventually the property was sold to it's current owner Christos Smyrniotis.
Time passed and the Broiler's popularity wained. Car-hops stopped bringing your burger to your car in the '70's. Through the '80's and '90's there were several organized cruise nights, and even a cover shoot for Rod & Custom in Dec '93. It wasn't enough though, and Johnie's closed their doors in 2001. It was converted to a used car dealership, and all that remained was the shell of a diner and a sign. Efforts were made to have it recognized as a historical landmark, but those were unsuccessful due to lack of cooperation from the owner.
On Sunday January 7th, 2007 the current tenant brought in bulldozers and began illegally demolishing what remained of the diner. The tenant had previously applied for permits to tear down the building and build a shopping center. Those applications were denied citing lack of environmental studies. They weren't at it long before local residents sprang to action, but a lot was destroyed in those few hours before the police stopped it. Fortunately the iconic sign remained.
Photo from Chili Phil -H.A.M.B.
Luckily that's not the end of the story. Car people and architecture people teamed up and the effort to save the broiler had begun. The Los Angeles Conservancy's Modern Committee, Friends of Johnies, and Coalition to Save and Rebuild Harvey's broiler, started attending city council meetings and working on a plan. The huge response from the community got Downey to actively seek a new tenant for the property. Eventually a deal was made with Jim Louder to sign a long term lease and invest in rebuilding it as 'Bob's Big Boy Broiler'.
Louder took the reconstruction seriously, and maintained a truly authentic feel. Sitting in that diner will take you back in time. Even if it's not all original, I'm glad it's here.
**Note: Everything's real in our photo, no Photoshop. Us, the presents, the hats, all of it. Corinne made our hats, and I made the one for the car...Sewing is hard. Also, Corinne wants to make sure everyone knows there is a blanket under the tree. She would never let a tree touch the top of her car....