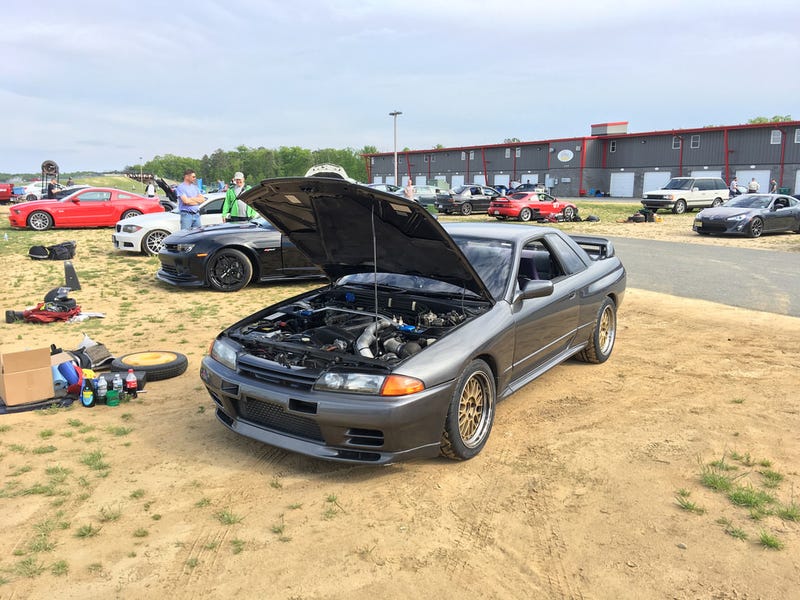 Josh (@JoshTaylorUSA) here. GTR update time! I've owned my R32 Skyline GTR for less than 2 weeks. The first 5 days were emotional highs. On day 1 we put it up on the lift at IM Autohaus to see what we were working with. Will joined us and begged us for a ride home and I got cozy with the R32 GTR's ample rear leg room.

The R32 with it's upgraded HKS 2530 turbos at 1.3 bar ran like a scolded dog and proved it on PTUNING's Dyno Dynamics dyno. In AWD mode it put down 400 horsepower. More importantly, the air-fuel-ratio looked decent on 93 octane. That dyno video can be seen below.
While I was quite content, the Internet was not. According to them, the mighty RB26DETT should have tripped up earth's rotation and made over a thousand. Really though, 500 to the crank isn't too bad, right?

The next day, I took it to get new Hankook RS-4 tires mounted to the BBS LM wheels. If you're assuming all BBS wheels are forged, you'd be wrong. The face of the LM wheels are cast and it showed, along with age, as the center cap area sheared off on the tire machine when dismounting the aged Nexens. Luckily that didn't prevent us from installing the 255 width meats.
The race shop mounting the tires questioned the longevity of the installed couplers and worm screws connecting the intake and charge pipes. With that, I rang AAM Competition in Maryland to see if they could take a look at the piping and work magic. They quickly installed new couplers and some very nice Mishimoto T-bolt clamps. Now I could rest easy knowing at least that the charge pipes weren't going to blow off.
Back en route, I met up with my buddy David an his 2015 Z/28 at the Maryland House rest stop for a quick bite to eat. The GTR's RB26DETT engine roared to life with as much bellow and muscle as an inline 6 could muster but was followed up by an unfamiliar beep-beep-beep. The HKS Electronic Valve Controller (boost controller) wasn't allowing any positive pressure. I was not familiar enough with the device and opted to simply turn it off, which allowed boost but reduced boost pressure to factory level of 10 psi.
As the track day would prove, it may have been for the best.

Fresh brake pads were supplied by Power Stop. They sent us their Evolution street pads and a set of Track Day (yes that's the product line name) pads for the front of our GTR. Giving props, Power Stop's Track Day pads performed flawlessly for the first 30 minutes, right up until the ABS pump hemorrhaged over the engine bay in a high speed braking zone. I managed to scrub off the speed and turn another lap to get back to pits. The GTR's first track day in North America was cut short.
With 2 bottles of DOT3 brake fluid we picked up from Wawa, we limped the GTR back to Virginia and parked it.

Sourcing an ABS pump for an imported vehicle like the R32 GTR proved difficult and expensive. I read of an R32 GTR owner in Texas converting an ABS pump from a Z32 300ZX 2+2. $60 later I had a used Z32 ABS pump on my front door and swapped the electronics over to get the GTR back on the road.
Now I can focus attention on the HKS EVC to get the missing boost back. Or maybe I'll yank out the entire HKS FCON/EVC combo in exchange for a tuner more modern.

No doubt the drama of owning a 25 year old car will continue as I rack up miles daily driving it.

Some may ask, "Do you regret purchasing the GTR?"
No way.
// If you like GTR's be sure to follow my ownership experience on RFD's Facebook page and on Instagram.