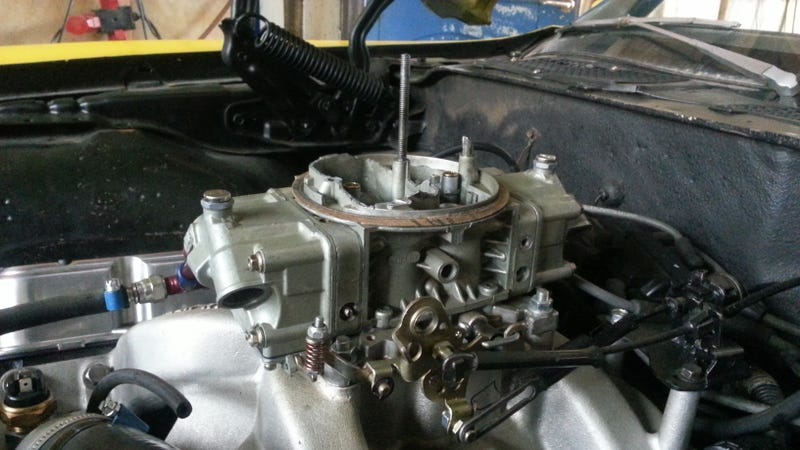 ...
And in with the even older!
Okay maybe a bit of context; Lately Joy (that's my 76' Firebird for those of you who don't know) has been running like crap. It started with small things such as a tad bit of hesitation on throttle response and generally feeling a bit down on power. However as time passed things got progressively worse. I went down a couple of jet sizes on the Holley and things got a little better for a while, but it soon went even further worse.
During a lunch-run the other day, the car simply lost all throttle response and simply died about 5 miles from home. However after waiting a couple of minutes I was able to get it started again and limp it home, though still dying a couple of more times on the way.
Anyways after some diagnosing and ruling out the ignition system and the filters I came to the conclusion that it had to be the carb. Of course the first thing I did was easy checks such as looking for debris in the float bowels and needles. One of the needles were actually full of crap so I cleaned it up,put it all together and then proceeded to start it. HOLY SHIT! that things is like a fountain of gas! I didn't make things better at all, I just caused one of the worst floods Sweden has ever seen.
But to get to the point. Took the Holley of and replaced it with the ol' Rochester (or rock orkester (rock orchestra) as we call 'em here in Sweden). The thing works great! Okay haven't had time to test drive it yet, but judging by the sound it's making from idling and revving, I'd say it's better than ever right now. Only downside is that my huge airfilter won't seem to fit anymore...
Now the plan is to tear the Holley (700 DP) apart and look for the problem that's causing this. Any ideas? Also what things am I probably gonna need to buy, or will I be able to disassemble it without fucking up every gasket possible?