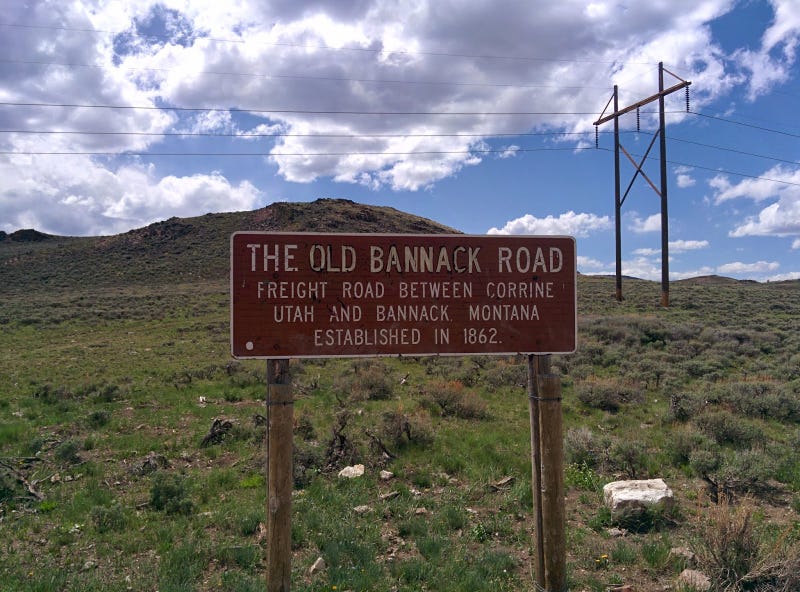 In my last write ups I talked about how my dad and I were just cruising over some of the country around my hometown. While I was up there I drove out of the area on this Medicine Lodge Road. After, I was looking at the map that my dad had available I noticed that the Medicine Lodge Road goes over what is called Bannack Pass over the continental divide and into Montana. So I researched that area over in the Montana side. I couldn't find much about the area. So I knew that to appease my curiosity, the area will need to be explored.
Before I left I performed some research to which I figured out that this particular road was the old Bannack Road which connected Bannack Montana to Corinne UT. Bannack was settled in the 1860's and was the first territorial Capital in Montana because of the huge prospecting of Gold. More Gold was found in Virginia City, MT a short time later so the capital moved there. However Bannack remained a mining town until 1930 and was abandoned. However it is now a Montana State Park . The Bannack road was the road that connected Bannack Montana with the transcontinental railroad that went through Corinne, Utah.
Here is my route so you can follow what what I'm talking about
https://drive.google.com/file/d/0B29vZl…
I started tracking with my phone when I got off Hwy 22. The Medicine Lodge Road pretty much starts when I turned west. For the first ten miles it is open range so there is a lot of cattle on the road.
Then you can see the big snow capped mountains in the background and you can see how open it is here. There are some ranches here and there but you can tell that of all of the homesteading that went on here but as the traffic stopped coming through because the mining died out it never turned out to be any permanent towns.
I guess before there were school busses they had some small school houses to educate the locals. This is the Edie School House.I couldn't find any history but it is friggin small so I bet not many students attended.
After about 5 more miles you cross into the Targhee National Forest. Since this was an old-school pass I figured I would not be encountering the most rugged terrain but I will admit I was a little disappointed that it wasn't as technical as I was imagining. The top of the ridge is the top of the divide so there wasn't that big of a climb.
Also any sign you see in idaho has to be shot up by bullets. We need something to shoot our guns at right?
Before I got to the top of a ridge saw an old homestead. I had to go check it out. Not only because it was a good photo opportunity but there was a cool water crossing. You see, last week I added a ¼" fuel line tube from my differential breather to my engine bay. I did this so that I could do these water crossing with peace of mind, knowing that I will not be sucking sedimentary water into my rear diff. Anyways I find it amazing the balls these people had to come out here and try to make it in this harsh environment. The winters here are harsh and with the big open area in between some large mountains I know there were some nasty north winds coming in. Must have been cold as hell.
Here is a pic of the old outhouse. I know you don't want your stink close to the house but imaging having to dash 50 feet in the knee deep snow to take a dump in the middle of the night.That's rough man.
Looks really pretty as we were driving away
This is looking up to the divide.
Next we got to the top.There wasn't much up there but we decided to get out and walk around and eat some lunch. Even though it was mid 70's in the valleys it was a cool 60 degrees up at this elevation which is about 7700 feet. My boy did not last long at those temperatures so we didn't spend much time there.
As we started driving away you could see down into the valley on the Montana side. Looks a lot bigger than I was expecting, Big Sky Country indeed.
Going down the other side was pretty short and fast. There were some cool old homestead houses. These homes were definitely my favorite. Here they all are from the Montana side.
On the way down there you have to cross Deadman's Creek. I don't know what is about water crossings but they are so much fun.
and from the other side
The Taco hardly got wet at all.
When you get the bottom you can go west and head out to I-15 via Big Sheep Creek Rd. Instinctively thinking and not actually reading the map, which wasn't very good to begin with, I turned left heading west. I thought it was going to turn north which is where I wanted to go. I ended getting to a road that would eventually head into a canyon going south and I knew I made a wrong turn. After another failed attempt which led to a fenced off ranch I headed back from whence I came. I originally should have turned to the right which about a ¼ mile east, the road turned north again. Then I saw the signs that let me know I was on the right track.
Saw what looked like an old calf shed or lambing shed.
Then saw an old abandoned camper bus.
I wanted to get to this place called Morrison Lake and I had been getting my boy excited about going and throwing rocks in the water. Well as soon as I started to go off the main road onto the road to Morrison Lake which was rough and steep. I looked back and this is what I saw.
I had to stick my shirt by his head because it was flopping around everywhere. However by the time I got to the lake he was completely asleep and did not want to get up. I was planning on walking around the lake and spending some time there just playing around. So I just got out and took some pictures of the place. I have got to say out of all of the places outside my own home, it is here where I feel all is right in the world. If everyone had a chance to get away to a place like this for a couple hours once in a while we would have a little more patience with everything you know, less asshattery.
Nothing says Murica like this.
Well maybe if I had a 3 inch lift at least.
Went and drove around some more around the outside of the lake and I saw this outhouse that was pushed over. If you need to take a dump here you better bring a shovel.
On the way into the lake there was this water crossing that I avoided by going left and only crossing about 5 feet of water. On the way back I decided to go plunge right into it. I knew I had my diff breather so no problems right. Well as I pushed through it was a lot deeper that I thought. It was a good three feet deep and the leading wave was definitely going into the engine. I got out to take this picture and I did notice my front license plate was bent forward. I was sure it wasn't going into the air intake but you get kinda nervous when you are by yourself because there is a long walk to find some help if something were to go wrong. I never have a problem crossing but I do always wonder about damaging the fan blades. Anyone have any experience with this? Is this an irrational worry?
By the way, this seemingly big water crossing came from this small stream.
After that we were back on the main road. It was smooth sailing from here and more you drive the closer you get to civilization. This was the last picture I took before we did see all of the houses. Google did a fine job with this panorama.
I enjoyed driving out the rest of the way. It reminded of the times when I used to go out with my dad in 85 GMC Sierra and then then the 93 Chevy Silverado. No wonder I was in such a better mood back then. It is so liberating to get out like this and drive around in the open country.
We finally made it out and then got back on I-15.My dad requested that I check out this restaurant in Dell, MT which is right off on I-15. He said he ate there about 30 years ago and wanted to see if was still around called Yesterday's Cafe. They had a bunch of antique farm equipment. The Yesterday's cafe was still standing but the building right next to it was open for business. Was a good photo op with the kid.
The sign in front said the cafe was for sale. So if anyone is interested in relocating to Dell Montana be my guest. There is not a whole lot there but it's these type of places that I love to eat and I would have ate there but my mom was cooking up something at home. I have spent enough money in gas this week I thought I better save some money and go for the free food.
A lot of this stuff can be done in any good clearance vehicle but you'd be pretty screwed if it ever got wet. When I bought this Tacoma my goal was to turn it into this rock crawler with 33 in tires, bull bar, 3 inch lift but there more I get out and do this stuff I realize all you need is a good pair of sliders(which I own) and a decent pair of tires(which i finally just got) and something that will drive all 4 wheels. You don't need all of the fancy overloading gadgets as from this post from yesterday shows.
We took I-15 and the highways back to Mud Lake and this concludes my little overlanding adventure series in Utah, Wyoming, Idaho and Montana. Even though it was supposed to be a Southern Utah trip, I am glad I was able to add some of this great Earth to my list of explored terrain. There is so much country out there that needs exploring and I guarantee there will be more exploring that will be done.