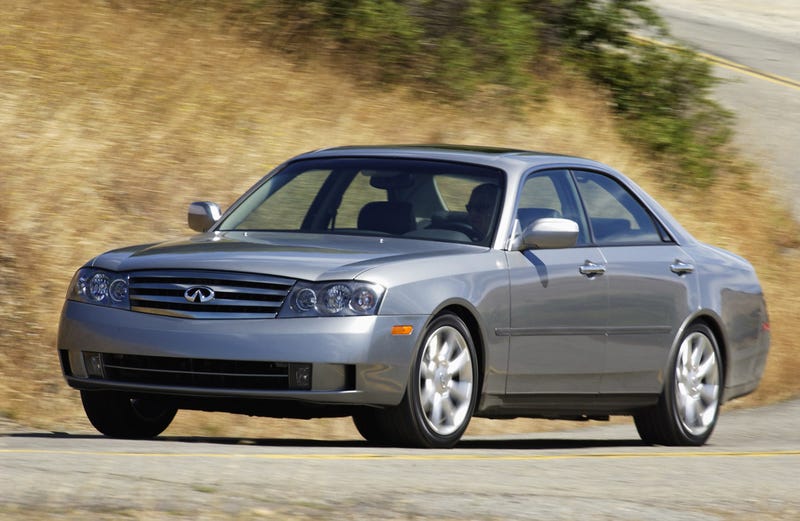 (Photo: Car and Driver)
I love the 2003-2004 Infiniti M45. The style predated the Chrysler 300c and managed to age much better, although much of this likely can be attributed to it's relative rarity. It is a perfect blend of elegance and muscle. To prove this I present you a modified M45:
Even stanced the Infiniti manages to still look elegant (ignoring the random angled plate in the windshield as seen in other photos). It is a conservative design with a mix of Japanese and European influences. Unlike most other Japanese luxury sedans at the time, the M45's mix is heavier on the Japanese elements and is all the better for it.

Mechanically it's the classic luxury car formula; a V8 sending it's power to the rear wheels. Power is rated at a healthy 340hp with 333 ft/lbs of torque, which compared favorably to the W211 E500. The 5 speed automatic seems antiquated when compared to today's 14 speed units, but was par for the segment at the time. No, there was no manual option you heathen, this is not the place for one. *dodges thrown shift knob* That's not to say this was a floaty boat with no sporting pretensions, that was its bigger cousin the Infinity Q45. The M45 with its 350z based rear suspension was fitting into that uncanny valley between sport and luxury that every mid-sized premium sedan finds itself in. Unfortunately for the M45's sales numbers too many Americans found the Infiniti on the wrong side of that valley and selling less than 10,000 over it's short US life. To be fair, Infiniti USA likely knew the M45 was a stopgap measure until the upcoming M35/45 based on the Nissan Fuga (which replaced the Nissan Gloria/Cedric on which this M45 was based) and put forth the marketing/sales effort you would expect for a car that was essentially DOA. So, I'm not putting all the fault of the poor sales on the product itself, although like many other direct Japanese imports, space is a bit tight for larger people for a luxury car. That, and the lack of a V6 option, couldn't have helped. The rest of the interior appears to be on standard for the time, and if I were to extrapolate from my own 2003 Nissan product, it should be sufficiently luxurious at worst.

As a used car YMMV as even the newest ones are 10 years old so expect to be nickel and dimed, but as nothing on this car is particularly unique I can't imagine that replacements are expensive or too difficult to come by despite the rarity. My rudimentary research backed this up. The V8 is the Nissan VK so if you find a cheap one with a bad motor you should be able to build a M50/56 quite easily (note: haven't researched this swap myself; note2: The "truck" VK56 make less hp but more torque). The hair that led to this article was thinking of this M45 with the current Q70 420hp VK and 7speed transmission. That idea... does things to me. Considering you can get a nice one from a dealer for ~10k it is still a great value on the used market. Get them while you can, before they are all stanced...or worse.