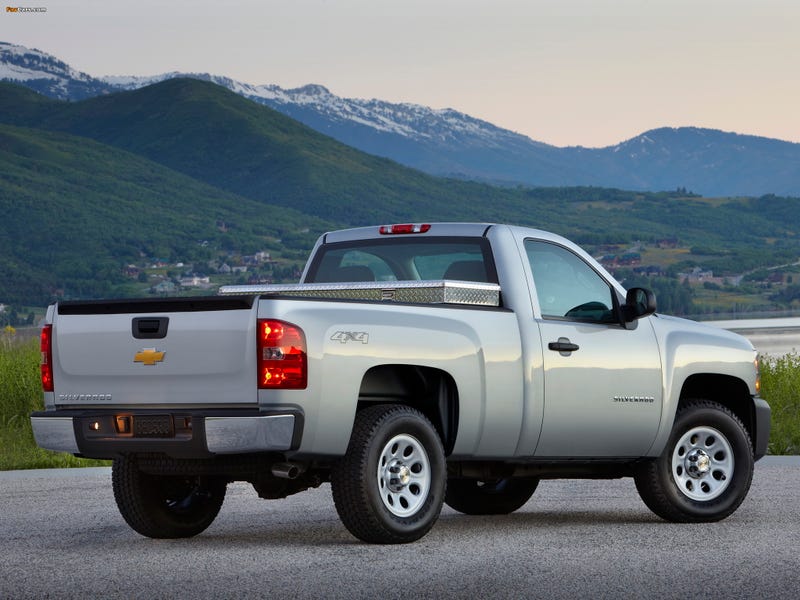 What exactly were the nature of your complaints with the GMT900 again? I had an opportunity to refresh my memory yesterday.
Likes:
Good ride&handling.
Looks.
4L60e is calibrated a little better than mine.
Nice seats, even at WT trim.
Very comfortable just cruisin'.

Dislikes:
Inability to "rest on the torque" (for lack of a better way of putting it). This is engine specific, it's the 4.8L and lacks the punch of the 5.3 I have.
Instrument panel. It SUUUUUUUUUCKS. You get a nicer one on the higher trims iirc, but this is awful.
An almost complete lack of visibility. Seriously, I felt like I was driving a house. It was a regular cab, and the huge pillars just behind your head mean changing lanes involves a certain amount of luck and planning. This is a vehicle best driven fast so people can't come up on you, which is a drawback since this truck is happiest at a cruise. Of course having the toolbox in the back doesn't help.
The seats, while comfortable, don't come up at the front enough—WT problems.
Driving position is... wierd. Like the pedals are too far away or something. Or maybe too close so that you have to sit back and the steering wheel is too far away. Dunno, I was mostly concentrating on not hitting stuff.
Basically, I think it feels weird because I'm coming from a small crew cab at the top of the line with a high driving position, and this is a reg cab full size with a low driving position.