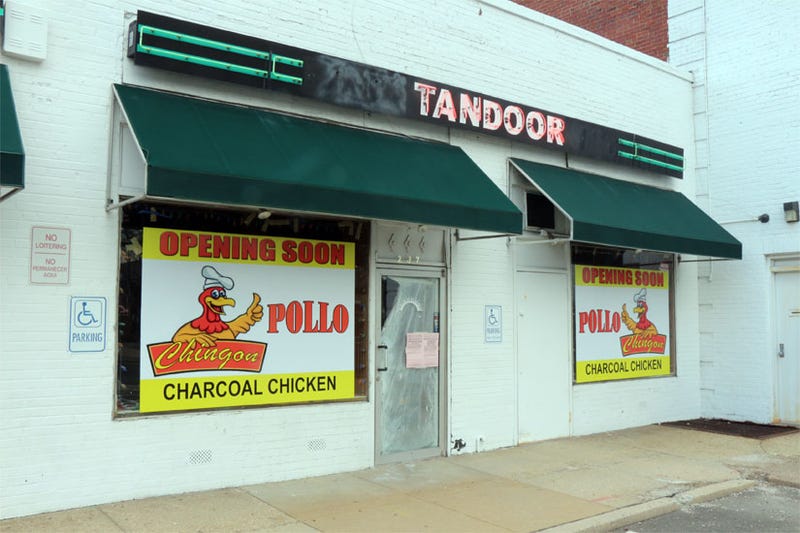 Signs went up recently on a former Indian restaurant in Arlington, VA stating that a new restaurant, Pollo Chingon Charcoal Chicken, will be opening soon. Turns out, this was not exactly the best choice of name on the part of the owners.
The local DC-area news decided to check in not only with the owners of the restaurant, but also interviewed both a Spanish teacher and a real live Mexican to get their takes on the name. The family that owns the restaurant was unaware the name might be offensive.
"When you hear chingón, it's when people are talking about something awesome, something nice, something cool," said Ernesto Aviles, a Spanish teacher at LADO International Institute.

Aviles will tell you that the word can be offensive if used the wrong way. It is derived from a word that translates to the "F-word" in English.

"It has a negative connotation that is most related to sex and you use it like a verb," said Aviles.

Aviles said it is used more often in Mexico.

Raul Vargas, a native of Mexico, said the way it is used for the restaurant is not vulgar.

"I am from Mexico and it means like something really good. Like the way it is with Pollo Chingon means like the chicken is really, really good," said Vargas.
So there you have it. A restaurant sorta kinda named "Fucking Chicken" almost opened in a DC suburb, until its Pakistani owners were informed that the Spanish name they chose for their chicken joint, might be understood as "Fucking Chicken."
Ah, America.