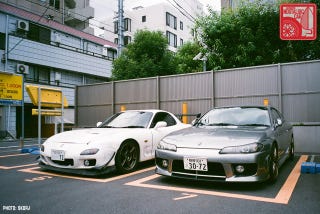 It's easy to forget that at times, us car nuts live in a completely different universe. Parking is a great example of this, as I am routinely reminded at work. When I go out to lunch with my colleagues, they will give each other shit for parking far away from the entrance to our building. Granted, the parking lot is pretty large, and Americans HATE walking.
That said, I'm always amused when someone complains about how far away from the car we're taking is parked. Because my car is inevitably even farther away, at the end of the lot, hopefully hiding from door dings and shitty parkers. It's amusing to me that the goal for normal people is to park as close to the entrance as they can, whereas for us, it's often all about parking as far away from everyone else as we can.
This is yet another example of the phenomenon where I totally forget that what I consider to be "normal" in terms of cars makes no sense to non enthusiasts. Like cleaning my own car or staying on top of long overdue recalls. A long walk to the car is a given for me, even in the rain. Just found that interesting...