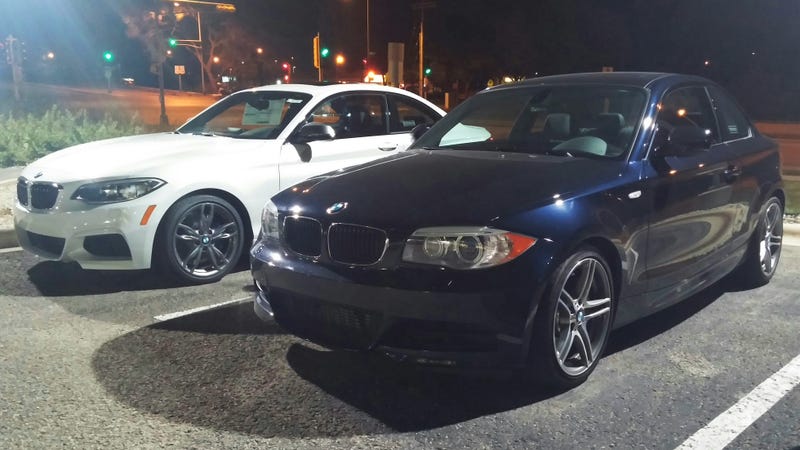 My BMW dealer (which is down the street from my office) got a new M235i shipment a couple days ago. There just so happened to be an empty spot next to this white M235i so I decided to pop in for some comparison shots. Apologies for crappy potato cam picture quality.
Some observations:
The front of the M235i is more attractive than the 135is, with better looking headlights.
The rear of both cars is somewhat unremarkable, with semi-ugly taillights. If anything I prefer the slight duckbill shape to the 135is trunklid but that's only a subtle difference.
The 135is has more pronounced fender flares, but is also a couple inches narrower overall.
The M235i wheels seem a bit...fussy to me. I prefer the 135is wheels.
The M235i looks a bit swoopier, but that's deceptive. It's pretty much the exact same height as the 135is, but has smaller windows because of a higher beltline. I took this shot sitting in my car to give an idea of the difference.
The 135is has a great M Performance exhaust that makes all kinds of pops, fizzes, burbles and is really one of the best things about the car.
The M235i, despite being a quasi-M car, has a more normal exhaust with fake engine noises pumped through the stereo.
The 135is rear bumper makes my biceps look huge. Aww yeah.
As for equipment...
The M235i offers an adaptive suspension option, the 135is does not. Overall the 135is rides nicely, but it's a maybe a tad harsh over bumps, so the adaptive suspension might be nice.
The M235i comes standard with iDrive, even if you don't get navigation. My 135is is blissfully without.
The dealer accessory LSD on the M235i is very appealing. For all but the craziest driving, the 135is is best left with the traction control in Dynamic mode which allows for some wheelspin and keeps the brake-based torque vectoring engaged.
The 7-speed DCT in the 135is shifts faster than the M235i's 8-speed ZF auto.
Anyway, I'm sure the M235i is a fine car, but I'm still quite happy with my 135is. Particularly the exhaust and DCT.