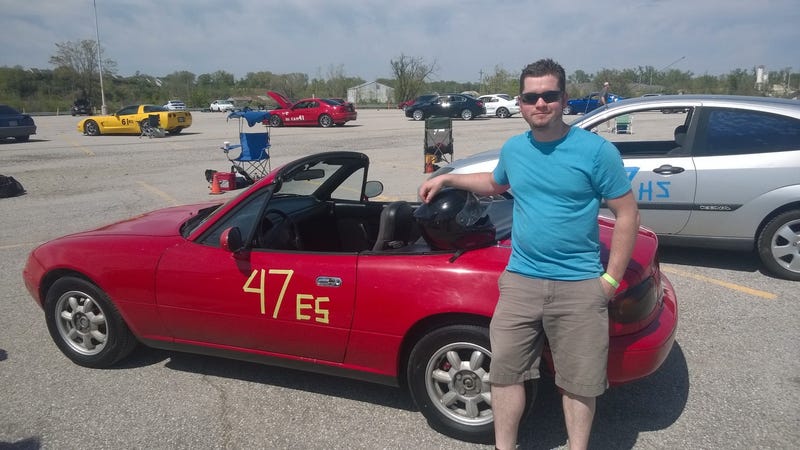 Sunday was funday for sure! Two friends and I went and participated in a SCCA solo event in St. Charles, MO and had a ton of fun doing so.
Now, none of us had driven in an event but I had at least attended and rode in a couple so I was a bit more familiar on how everything would function. I drove my Miata while my two friends brought a 1989 Mustang and a 2001 Focus. The Mustang has a 331 short-block with a trick flow top end kit and runs hard. The Focus, all stock as my friend had bought it just for this weekend. No matter the mods we all had a great time.
On the way there:
Un packing and taping our assigned numbers to the cars:
Walking the course:
After a drivers meeting we had to work track sections for heat 1 which provided me with a nice sunburn. Lots of variety in cars and drivers.
Some random cars from around the grid:
Convertible 240SX on the left...never even knew they made these cars!
Hartop Solstice!!
This EVO had a boat-load of money in it and was stupid quick!!
My buddy getting ready to run:
Some cars in my grid....many rival Miatas as expected! Mine was the only 100% stock Miata there!
Unfortunately we couldn't get any good shots of the cars running as the track was huge and far from the grid. If I happen to find some I will post them up.
The three of us all made big improvements during the 5 runs we did and I came out the quickest by 2 seconds. My goal was to get in the 54 second range and I got close. Our best times below:
Miata: 55.410
Mustang: 57.431
Focus: 58.624
We cant't wait until the next even in July along with a team even in October which we want to attend. Very addictive sport and very affordable!