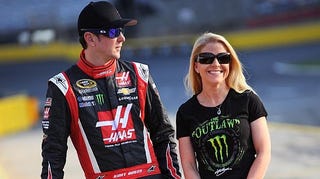 KickintheTires.net published a story today about emails that Patricia Driscoll sent to Tony Stewart after the Kevin Ward Jr. tragedy. In it she claimed "I've worked in countries all over the world waging not only physical wars but mental wars, and I've helped get a lot of Congressman" (man not men in the quote) "save their jobs when they did some stupid and not so legal things."
The story is pretty long, but she basically laid out her plan of Tony going on the offensive and having Richard Petty make a media covered stop at Tony's trailer at Michigan Speedway, and then forcing the King to talk about the horrible day when an eight year old (the article says 8 but Wikipedia says 6 year old) died in an accident during the King's very short drag racing career.
Other than Patricia being more than a little ruthless in her most likely unasked for consultation, there are two interesting points.
First she makes claims that she is more involved with the Government and the Military than just being a CEO of a Department of Defense Contractor.
Second, Tony (or his Public Relations people) pretty much did the exact opposite of anything she suggested.
Here's the link to the full article.