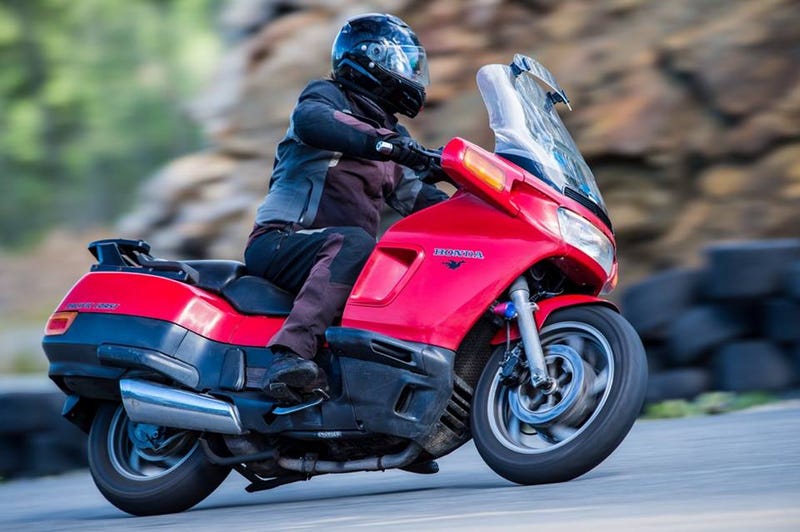 First off, everyone's OK, aside from some bumps and bruises on the rider (not me), and the bike is completely repairable. The rider has posted about this herself, so I guess it's OK for me to tell the story too.
I've sold my '98 Honda PC800, which I've written about here before. Amazingly it isn't even changing residence - our friend/tenant is buying it. We went out for a quick ride together last night so she could get a feel for it. She liked it a lot. We were turning out of a parking lot to head back home, and she accidentally twisted the throttle locker along with the throttle. She ran wide, ran over and jumped off a short roadside pole, and dumped it upon landing. The brake pedal is bent, and the right mirror and windshield are broken. We managed to limp the bike home (a mile up the road) after I gathered up the busted parts. It still runs fine, despite the rear brake dragging due to the bent pedal.
The bent pedal should be able to be unbent. The Clearview windshield is broken, but she can choose from a wide variety of replacement styles and heights. She might as well get whatever will work best for her. The mirror is the tough part, since these bikes were never common and neither were their parts, but she seems to have found some options. Beyond that, it's just minor stuff, like re-aiming the driving lights whose brackets got bent but not broken. We can rebuild it. We have the technology.
I can't even tell you how soul crushing it was to watch the bike I've put so many miles on and had so many adventures with over the past 4 years get crashed, even if it is sold. But at least the damage is limited to three key areas, all of which we have a plan to repair. I'll probably feel better about it once the progress begins. And we'll definitely be removing the throttle locker, at the new owner's request, to ensure that this problem doesn't happen again.