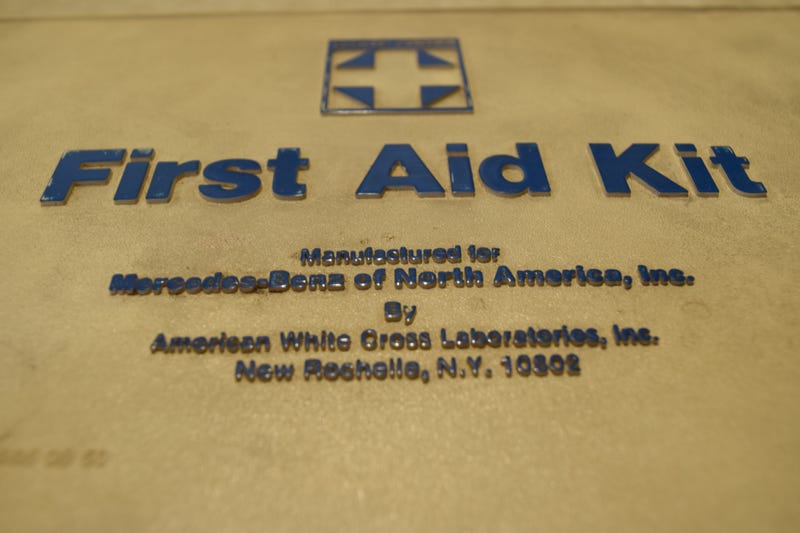 The other day I ran into a guy I know through work who has a 300D. I had never seen his car before, but he knows I have a 240D and inevitably our conversations evolve into w123 discussions. No pictures unfortunately but it's identical to Scary's.
His 300D is in beautiful condition. I was admiring his car and commented on his intact first aid cover. When I purchased my car it was okay condition aside from a crack in one corner. When I went to remove it for repair it shattered and scattered to the winds.
He told me he has a stack of them at home and he'll give me one.
AW YISS, free stuff!!
---
He pops the lid open on his and it still has the original first aid kit.
"Cool! You even have the first aid kit."
"You don't have that either?"
"No."
He raises a finger and pops the trunk, "Hold on".
Some rummaging later he pulls out a first aid kit and hands it to me.
"Here, it's yours."
---
"You know I put that in there the other day for no reason at all. I guess there was a reason."
NICEST OLD GUY EVER!
He wouldn't accept any compensation so I could only offer thanks. W123 owners continue to be among the most generous and kind group of car people I've come across.
Another w123 owner I know owns a towing company and has towed my VW twice for no charge and gave me two bundt wheels.
Lets open it up.
Turns out to be a pretty extensive kit.
A pretty thorough handbook.
Anyone need an Aspirin? I think these are still good.
Next was to give it a good cleaning. You can see on the left where I hadn't cleaned it yet. Ew.
All done. The top half is a different shade, leading me to believe it was sun damaged. But the color on the text appears fine, so who knows.

This is probably the item my car needs the least, but I thought it is cool to have.