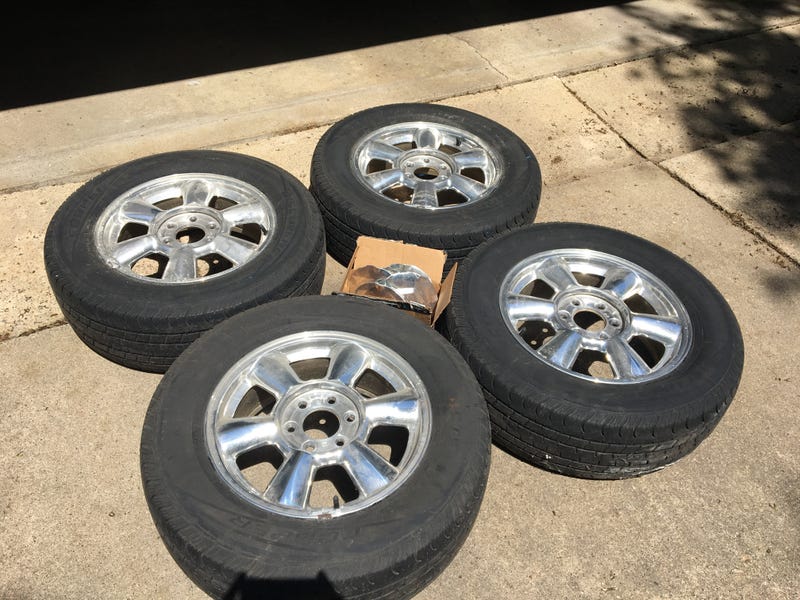 Did some spring cleaning this past weekend and finally got around to listing the OEM wheels for our Envoy on the local Facebook for sale group. They're mostly useless as they all developed never-ending bead corrosion and don't hold air for more than a day or two, so I just listed them for free in order to get them off my hands and out of my garage.
In the listing I made sure to specify that, in addition to not holding air worth a damn, they are the oddball 6x5" lug pattern that basically only fits other GMT360 models (Trailblazer, Bravada, Rainier, etc.). I even put in all caps "DOES NOT FIT SILVERADO/TAHOE/ETC.".
I had a few people jump on them right away. The first guy flaked and didn't show so I messaged the second guy last night and said they were his if he wanted them. He said he'd come right over and pick them up.
I go out to the garage and roll them out into the driveway and wait. The dude shows up in a janky old Ranger, missing quite a few teeth, and smelling pretty ripe. I help him load the wheels up and ask, "So, what are you putting these on? Trailblazer, Envoy?"
"Nope, I'm gonna put 'em on my Z71."
Whatever. His problem now.