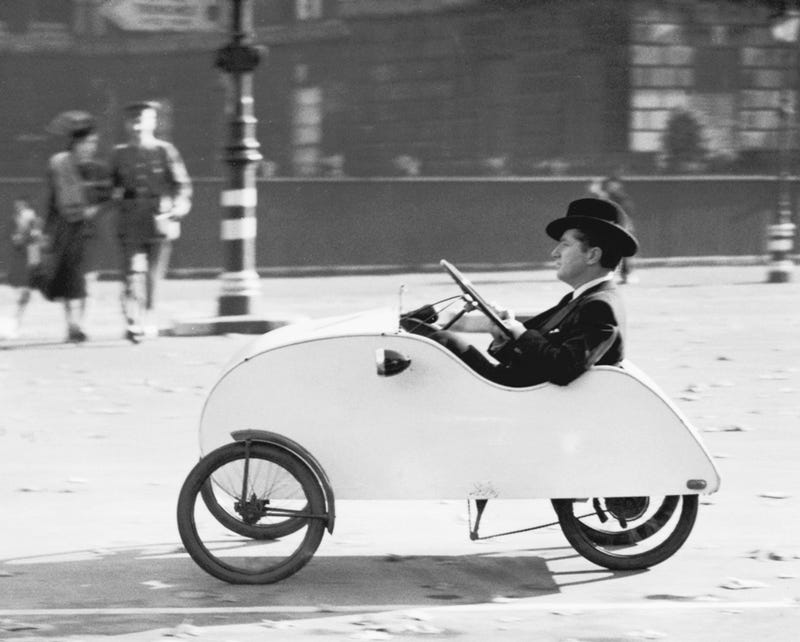 The other day I wrote about Buckle Motors where Bill Buckle Jr. took the import car business his father started to a new level. Today's father and son team are Charles and Georges Mochet, a pair of innovators who helped put France on wheels in the first half of the 20th century.
Have you ever seen one of those dumb looking bicycles where the rider leans back with his feet pedaling away in front of him like he's on a rolling Barcalounger? Those are recumbent bicycles and they were invented in the 19th century, but perfected by Charles Mochet in the years after WWI. Much like after the second world war, Europe was in shambles. Cars were already prohibitively expensive, so most people got around by bike or horse. Mochet was a self-taught engineer who thought he could improve on both, and so the velocar was born.
Mochet's genius was taking the recumbent bicycle, mounting it in a lightweight frame with a plywood body around it, and adding a wheel or two. Voilá, a human powered car! You can double your person-power by widening the seat and adding another set of pedals. Most bicycles at the time were quite stiff and heavy, but Mochet made his velocar frame tubular to save weight, so the cars were really not much heavier than a normal bike. Plus, you were out of the rain and could bring someone to talk to.
The pedals were connected by chains to an intermediate driveshaft located under the seats. From there, two chains with different gear ratios drove the rear axle. The gears were selected with a small lever under the driver's seat that connected to an interesting clutch system. Mochet kept making improvements, adding a third gear and then a separate chain that was permanently engaged. It turned on a freewheel whenever one of the other gears was engaged, and acted as first gear when the lever was positioned in neutral.
As bicycles at the time got more gears, so did velocars finally getting up to 5 in 1940.
The rear wheel hubs had unusual drum brakes with the shoes and linings on the outside of the drum. When you squeezed the brake handle, the brakes squeezed the drum.
The Velocars were quite popular, believe it or not. They weren't built by the thousands by any means, but people used them on holiday, to go to work, or to the store.
You could get one with a little pickup-like box on the back to use as a delivery vehicle.
There were even flimsy trailers you could pull with it.
They filled an untapped market at only 2500 to 3900 Francs. At around twice the price, the cheapest cars of the time were chain driven cycle cars, but they were not particularly reliable. No motor = no worries.
Still, this didn't stop Charles from trying his hand at building his own cycle car. He used the same plywood and simple frame design of the velocars, made it look a little more like a real car, and added a 350cc engine of his own design. It was primitive, but serviceable.
200 were produced, but it wasn't the success Mochet was hoping for, so he went back to concentrating on the velocars. After the start of the Depression, he made one more brief foray into motorized vehicles with what was basically a velocar with a Mochet designed 175cc two-stroke engine under the seats. He called it the Ptitauto and after only 10 cars, and the scuttling of a deal with Simca to license and produce the cars fell through, Charles stopped production and again went back to only pedal power. This is when things started to get interesting.
Chuck noticed two things. First, the recumbent position made cycling much easier on the cycler. You weren't hunched forward over handlebars, so breathing was easier, plus, even without bodywork, you were much more aerodynamic leaning back with the center of gravity near the back wheel as opposed to forward. Velocars were quick, at least on flat ground, but cornered poorly. The second thing he learned was that even 2,500 francs was too expensive for a lot of folks during a depression, so many people were still on bikes. And, Charles figured if they were going to bike, they should be on his bikes. So, he downsized the velocar, cutting it in half and removing the body and, voilá, a bicycle!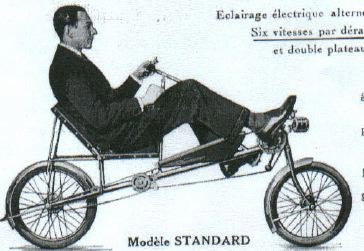 Recumbent bicycles had never been popular because, well, they were weird, but also, no one had really figured out how to make them work right until Mochet. The velocar's cornering issue was lessened with only two wheels making the "velo-velocars" as Charles called them, blisteringly fast. To prove this, Mochet had the design certified by cycling's governing bodies and got a cyclist named Francis Faure to race it.
In 1933, Faure broke a 20 year old hour record by going 45.055 km in 60 minutes. Manufacturers of normal slow bicycles were shocked and lobbied to have recumbents banned. They even got Faure's record stripped because he was a "Category 2" cyclist and certified records could only be held by "Category 1" riders. Since they were the establishment, they prevailed and a new definition of racing bicycle was ratified, excluding velo-velocars. Charles Mochet protested the new rules until the day he died. Which, unfortunately, was about two months later. So, the recumbent remained a curiosity, fading from memory only to be resurrected by hippies in the 1970's.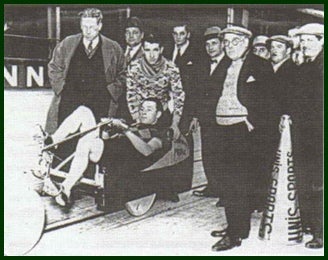 But, the velocars kept the company alive. After Charles's death, his son, Georges took over without a stop in production. Georges had pretty much grown up in the Mochet factory. His father taught him everything he knew. That's little Georges on the left in the picture from 1925 of the first three velocars made. They became a necessity as WWII closed in and gasoline became non-existent. It's said families escaped occupied Paris by night sneaking away in silent velocars.
Suddenly, velocars were not just for the poor. Mochet actually pumped out as many velocars during Nazi occupation as they did in the 16 years prior. Velocars were so simple and used little resources, so the Mochet factory was one of the few that remained open. The market was all theirs since a velocar was the only new vehicle you could buy. People even started putting little moped engines in them and re-selling them with the Mochet badge replaced.
After the war, Georges knew people weren't going to want to pedal their car any more. But, they'll still need transportation. Velocars had really only been a cottage industry. The company had dipped its toes in the automobile business, but Georges was more ambitious than his father. Unfortunately, Europe was back in a postwar mess. So, Georges took the lead from many of his customers who had added little motors to help on hills, and Mochet started selling velocars with 100cc engines in addition to pedals. Cars 125cc and under were sans-permis, which meant they could be driven without a driver's license, so manufacturing them was virtually regulation-free. Georges got to work designing a proper microcar without pedals and, in 1947, the type K was released. It had a fully metal body, one headlight, three on the tree chain driven tranny, and a Zurcher 125cc engine giving it a top speed of 50 kph. It was terrible as far as cars go, but Mochet was now officially an automobile manufacturer, one of only three French microcar marques. The cars sold because they were all that was available.
In 1948, the Citroen 2CV debuted at the Paris Auto Show and was pretty huge and sophisticated next to Mochet's tiny and primitive offering. Georges had designed a slightly larger car with suspension in front AND back he called the CM 125. CM stood for Charles Mochet whose name was still on the build plate of every vehicle the company made. The CM 125 became Mochet's biggest success to date. It had the same Zurcher 125 as the K and was crude, slow, had no doors, kick start, terrible tires, no reverse, still rode like crap, only seated two (barely), cost 35,000 more francs than the Citroen, and sold like hotcakes— er soufflés. Why? Well, you still didn't need a driver's license to use it, and you could get one pretty much right away as opposed to waiting several years for the 2CV.
Like with the velocars, utility versions were made with a little pickup bed in back. Some even had a van-like enclosed box. Mochet would also make modified controls for disabled veterans. Georges kept making improvements to the car. He added comforts like electric start and, for the first time in a Mochet vehicle, reverse gear! A Grand Luxe model was introduced in 1952 costing 40,000 more francs than the standard CM. This featured a much more modern looking 2-door body with roll-back soft top. It's actually quite charming.
In 1953, Mochet made a special edition with a 175cc Ydral engine in it, for the first time offering a car you actually needed a license to drive. A small number were sold to people too impatient to wait for their Renault or Citroen. In '54 Mochet ceased making the wire wheeled base CM, producing only the Grande Luxe body, dropping the price and calling it the CM 125Y. The front grille thing was replaced with a curved metal piece that looks like it's stickling its tongue out coquettishly. A larger delivery van or pickup could now be had and, eventually, production of the regular cars stopped and only the commercial vehicles were made.
Mochet produced 30 to 40 vehicles a month. A pretty good clip for a microcar manufacturer in those days. In 1958, regulations changed and 50cc's became the cutoff for sans-permis cars. Mochet lost its market in one fell swoop. Despite building one prototype for a good looking 750cc roadster, Georges shut the factory down.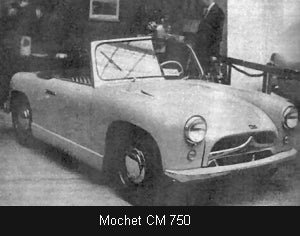 After producing cars for 24 years outside Paris, Georges moved to Pont-a-Mousson where he became an engineer in a factory that produced agricultural equipment. Despite his importance to the French auto industry, he toiled in obscurity until he retired when he was rediscovered pedaling a velo-velocar along the Mediterranean.