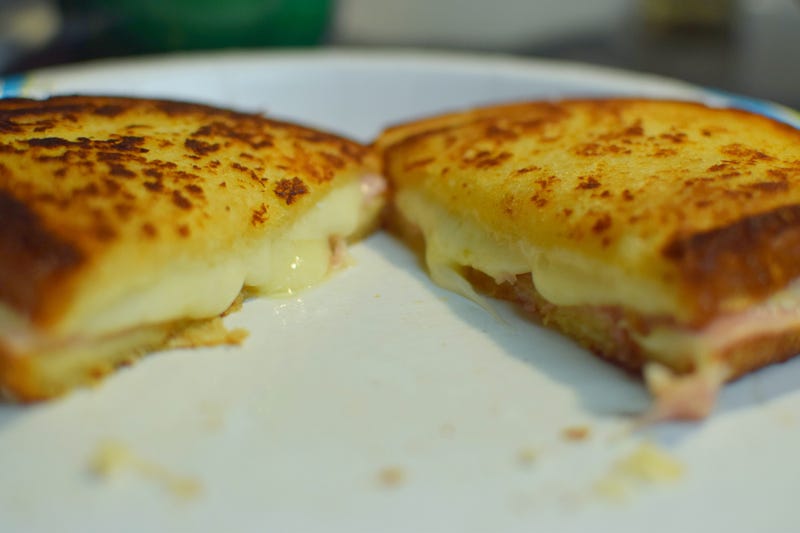 I think I might have done it.
There is the ever popular method of spreading butter on each slice of bread. But if using real butter you run the risk of obliterating the bread. Some people use mayo but that is... I don't even know what that is. Some regional nonsense?
My new method(which someone else probably figured out long ago):
Acquire Sourdough Bread
Because sourdough bread is best bread.
Cheese of Choice
I went with swiss, but any meltable cheese will do.
Gus likes swiss.
You can also add other things at this point. I opted for the ever popular "slice of ham."

Gus also likes ham.
Something New I Tried
Horseradish. I love this stuff. My condiment of choice for most occasions. Not necessary for this if you don't like it.
After this, get your pan hot. A little less than medium heat should be good.
New Butter Method
Cut off two chunks of better about yay big.

Then add one chunk to the hot pan. Coat an area large enough to accommodate the surface area of bread.
Throw It In The Pan
While you wait for one side to brown, cut a tiny sliver of butter and feed it to Gus. Dude is a butter fiend.
Butter Part Two
When the one side is done, momentarily remove from pan and add second chunk of butter.

Flip It
A minute or so like this and you're ready to go.
Advantage of this method: Butter has not destroyed bread in spreading process. Even distribution of butter. Horseradish is delicious.