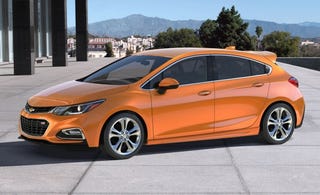 Hear me out, the pay off is almost worth it! Chevy brought out a hatchback version of the Cruze which means we need a true sport version approaching 200 hp. We just do! I'm thinking 1.4 turbo with about 192 hp to split the segment's 180 hp and 200 hp compacts. The only reason they haven't is because Ford hasn't offered a 200 hp Focus Sport, yet. Something in that gap between Focus Titanium and Focus ST. Ford hasn't because the FoST is priced too low to offer anything between them right now.
This badder Cruze must, and I mean absolutely MUST be called the Cruze MI. Yes it sounds like Civic Si but that's just a bonus for where I'm going.
So we will have this 192 hp Cruze MI. Chevy then offers a GTI and Focus ST fighter by popping in the 2.0T making 250 hp. This Cruze be less edgy than the FoST and should be called the Cruze MI/SS.
Stay with me here! I promise this car has the potential to target the established competitors, attack them directly, and blowup the sales charts for Chevy. They just need to launch it and BOOM! Success!!
But let's say they offer a performance pack that transforms the MI/SS into something even more aggressive than the Focus ST. I'm talking about running up on the Civic Type-R. Give it the full 275 hp from the Camaro (or more) and call that performance package the 1LE.

So the Cruze Hatchback lineup would go:
Cruze Hatchback - 153 hp, 1.4L ($21,240)

Cruze MI - 192 hp, 1.4T ($23,000)

Cruze MI/SS - 250 hp, 2.0T ($25,440)

Cruze MI/SS 1LE - 275 hp, 2.0T ($28,100)

That's right, the Cruze Missile Hatchback. Let's Go!!
By the way, I didn't notice how much of a premium automakers are charging for hatchbacks as they add in performance! Check out the compact sedan prices and specs around the base Cruze Hatch's base price and 153 hp. I see why the WRX and Civic Si had to drop the hatchbacks. I also realized that Ford threw out the hatchback premium for the Focus ST in order to block out the segment. The Focus ST would actually be $27,000 at the lowest if Ford had of charged the bodystyle premium. Neat!