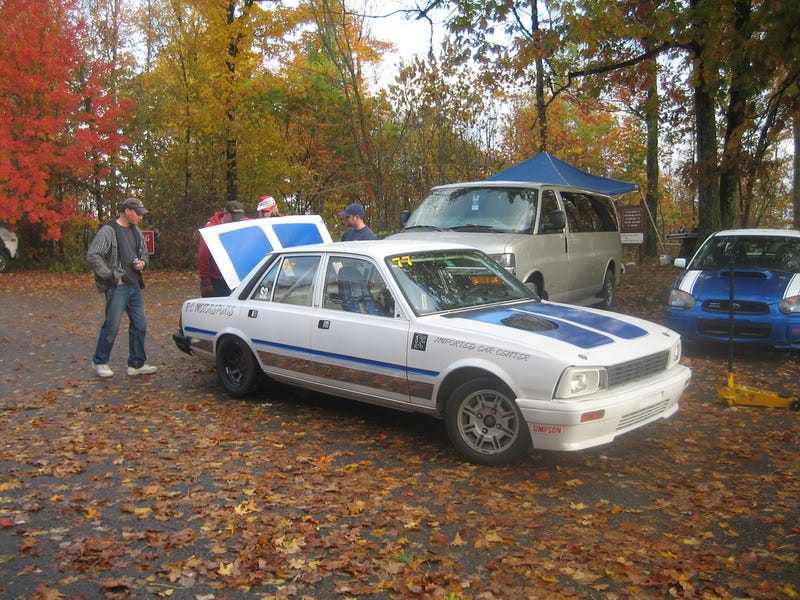 Hello everyone,

As you may have read my 1987 Peugeot 505 STI V6 was totaled in a rear end crash on Wednesday evening (October 28 2015 at 5:39 PM... yes I remember it all that perfectly). Ever since this happened I've been looking for a replacement or what to do at least with the car - I found a friend from Alberta who wants to take on the task of giving a new life to at least the parts off of the crashed shell (rust free, never winter driven... won't be ever now) and scrap the bare (and I mean bare!) shell after he's done with it.

The exchange will be for RJ [name of the car] and two thousand dollars worth of parts sitting inside of it, as well as a spare PRV 2.8 motor with very low mileage off of a similar model/trim level/year car.

In exchange for all of this I will be receiving a straight bodied but probably slightly rusty Peugeot 505 shell, equipped with a 2 liter pushrod inline-4 with K-Jetronic CIS and a distributor ignition (codenamed "XN6" by Peugeot), and a 5 speed manual (BA7/5, for lower output cars compared to the BA10/5 in the Turbo, V6, and diesel models).
It will be equipped with 1985/86 pre-ABS model 505 Turbo suspension (stiffer spring rates and lower ride height) all around as well as the respective wheels (as shown in the picture), the interior will be FULLY stripped out with only a driver's seat remaining and the rear fuel tank as well as the spare tire and jack/tools and barely any dashboard (Series 1 dashboard will be used due to it being lighter), the rear end will be a 4.11 final drive with limited-slip capabilities (clutch-pack type), A/C delete, power steering will be kept but a quicker turbo rack will be used. That's about it for the modifications that will be made by the shop in Alberta.
TL;DR version -
- used decent condition 505 shell
- xn6 engine (1971cc 4 cyl pushrod with k-jet and dizzy ignition)
- ba7/5 (5 mt)
- 505 turbo suspension and wheels
- stripped out series 1 interior with only a driver's seat remaining
- 4.11 rear end with LSD
- A/C delete
- P/S will be kept but turbo rack will be used


My modifications however? That's another story!
Here comes a shitload of info about the engine itself (which will be my primary focus). First of all I recommend reading up about the engine by following this link.
The stock XN6 makes only 96 horsepower with all the emissions stuff (air pump, catalytic converter)... that's not enough for me!
Bottom end wise I will be changing pistons to XN1A (Argentina special version) to raise the 8.35:1 compression ratio to a more modern 8.8:1 [raises HP from 96 to 118 hp, when emissions controls are taken out as well], the crankshaft, connecting rods, and pistons will all be balanced, the camshaft will be given a MUCH more aggressive profile (Wade profile no. 112, as shown in link).
TL;DR version -
- only 96 hp [8.35 CP]
- emissions delete
- XN1A pistons [8.8 CP]
- engine balancing
- aggressive cam profile
Top end wise shaving the head 0.5 mm (and changing all gaskets for new ones) to raise compression ratio by 0.4 [9.2:1 CP by now], the head will be refurbished with lighter valves, uprated valve springs, shaved pushrods, exhaust ports will be ported fully to a better flowing design [follow link for more info], intake ports might as well use a bit of porting as well, polishing the combustion chamber a bit as well.
TL;DR version -
- shaving head 0.5 mm [9.2:1 CP]
- lighter valves, better valve springs
- shaved pushrods
- ported exhaust and intake ports
- combustion chamber polish
The exhaust manifold will be fabricated in stainless steel (as well as the entire exhaust system, which will be free flowing) and in a 4-2-1 design.
Injection system will remain K-Jet, and if needed will be tuned for more fuel delivery.
Ignition timing will be played with for more aggressive curve.
Since emissions controls will be deleted for the exception of the oil catch can / charcoal canister (custom made), the engine bay will be much cleaner since most vacuum lines will be gone.

Aside from the engine, the suspension will be worked AKA springs will be cut (mathematically perfected so no BS here), shock oil will be replaced with Honda motorcycle fork oil for thicker oil and stiffer shocks, the bushings will be replaced with Poly-urethane. Lower ride height, stiffer ride, MORE GRIP.

There will be a rollcage installed, the fuel tank will be refurbished and most probably moved further up front for better weight distribution, the rear door glass will be replaced with some lightweight alternative and it will not be possible to roll the windows down.

The tires will be replaced with Yokohama S-Drives in lower sidewall and wider tread (205/55R15 instead of 195/65R15).

Eventually the hubs will be modified to 4x100 instead of the odd-ball 4x140. Brake pads will be upgraded to deal with fade, rotors will be upgraded to Turbo 505 rotors with more ventilation properties, calipers will be kept as-is (plenty good), brake fluid upgraded to DOT5.1, rubber brake lines to braided lines, fittings upgraded to AN Fittings.

Cosmetically the car will receive a Turbo model front fascia (complete with shitty sealed beams... with projectors), the front and rear bumper will sit much more flush with the body (a bit of modification needed), E36 sideskirts fit perfectly so the M3 version will be used. Eventually there will be a completely flat-floor installed (probably plywood or maybe steel), and aerodynamic modifications will be performed.

Interior wise, the comfy driver's seat will be kept for as long as I have to until I can afford actual racing seats or sportier bolstered seats off of some other car. Preferably racing seats so I can install racing harnesses (not cheaping out here, buying brand name so I don't DIE!).

This car will be as close to an actual race car as possible while still remaining possible to daily drive the car if needed (as much as I will hate my life daily-ing it).