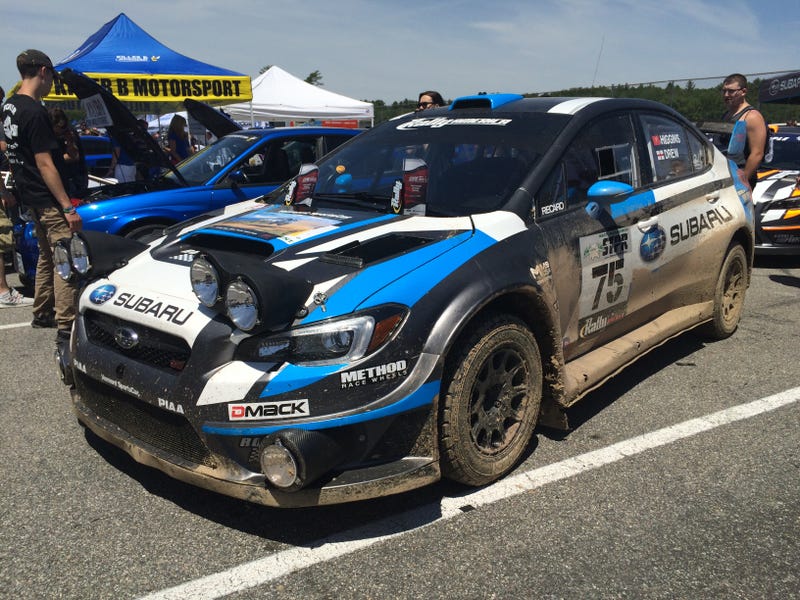 The Rally America STI, fresh from it's 1st place finish at yesterday's Susquehannock Trail Performance Rally.
Considering each sticker is worth +10 hp, this STI would put a Veyron to shame!
Subaru's new Hyper Blue. Expect it in showrooms this Fall.
Rally Outback.
Rally BRZ
Galaxy Blue Silica is pretty in sunlight. Also notice the license plate!
How a Subaru is supposed to look!
Wait a minute...some cheeky bastard showed up in his mom's Honda Odyssey
I love this green. Those wheels, too.
Just about the only yellow car in a sea of World Rally Blue.
An old Subaru 1600
It's just an SRT8, not a Hellcat. Hence the license plate: "5LOW SRT"
Angry WRX is angry.
A manual transmission Chevy SS!
This guy came to the wrong neighborhood...
Probably the most badass Wrangler I've ever seen!
Classy!
Who needs a roof box to carry shit? Just strap a shopping cart to the roof!
An RX-8 covered in zombie blood!
It looks like two Launch Edition STI's, except one is clearly labeled as a 2015 Mitsubishi EVO.
I love this British Racing Green JCW Cooper.
A complete family tree of Skylines!
Let me repeat that: A COMPLETE FAMILY TREE OF GODDAM SKYLINES!!!!!
Pretty badass!
Still debating whether or not to put gold wheels on my WRB WRX.
This license plate is perfect. "Flat out" and "Flat-4" combined into one!
A close-up of the new Hyper Blue, or as I like to call it: Swedish Racing Green!
And the Hyper Blue stitching looks fantastic!