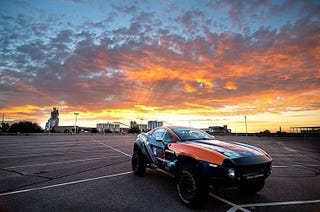 So I am working on a new column called "Get This, Not That" wherein I present a buyer scenario, I narrow down the field to two vehicles, break down the features on each and render a verdict. This is something I do for clients all the time so I thought it might make for a fun post. (Rally Fighter for your troubles) Here is a preview-
Scenario: You currently drive a hot-hatch but are recently married with a little one on the way. You think it's time to get a "grown-up" car, something with more space and AWD for bad weather. Maybe a compact SUV could work, but you are not quite ready to give up the "hoon" just yet so it is going to have to be turbocharged and have some decent handling. You have set a budget of 30k, what do you get?
I'm going do a showdown between the Ford Escape 2.0 Ecoboost and the Forester XT. Here is where I need "shoop" help. This is very simple but I suck at PS and don't have the patience for it. I need a side by side photo of this
and this
Both images via Jalopnik.