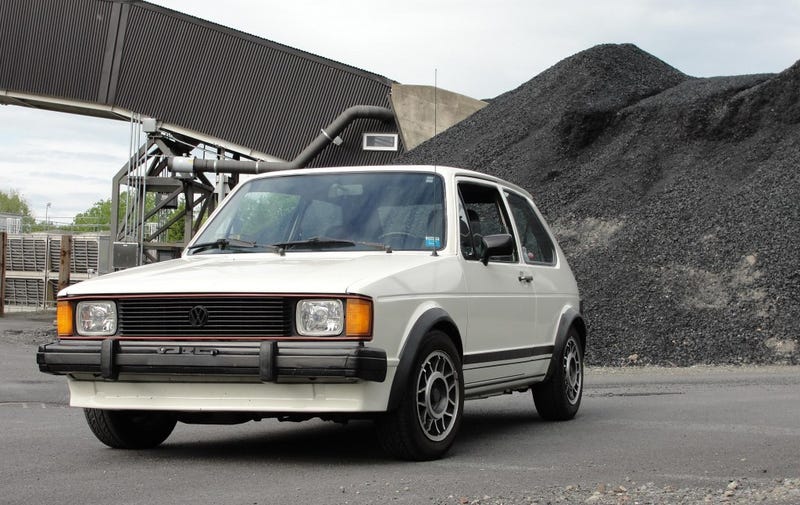 I really had nothing to do with any of the work that goes into buying and licensing a car. I just remember receiving a package in the mail which contained a license plate and my dad calling me with directions to an import dealer in Albany, NY. I had just finished finals at school and had a week or so to kill before graduation so I was more than willing to drive the 3 hours each way to pick up my brother's 'new' 1984 VW GTI. The only tough part was finding someone who was willing to tag along and then drive my car back.
We arrived at the shop in Albany (after a lunch break at a scary McDonald's) and I walked inside and told them I was there to pick up the white GTI. They then handed me the keys. That was it. Really? I had brought my passport in order to prove my identity and had figured that they would be unwilling to release the car to someone other than its registered owner. Oh well. After a quick ocular pat-down on the car I noticed nothing troubling other than the fact that it needed some air in its tires. The car started right up and sounded like it had enough power under the hood to propel the small box to highway speeds. After affixing the license plate I thanked the dealers and left.
The entire stop in Albany took about 30 minutes, so it was back to gorgeous Ithaca. I was enjoying the surprisingly comfortable seats and lack of power steering so much that I missed the turn onto 88 despite the frantic waving from my friend in my MkV behind me. This pointed us on a slower route towards Syracuse and, worst of all, left us with a higher toll to pay. The car drove straight and there wasn't as much noise as I would have expected on the highways. The only real noise was some sort of alarm tone that sporadically sounded during the entire drive, which became annoying. This turned out to be a bad relay. I also really liked the vent windows up front because I had never experienced such a thing. The car was not quite the same as my 25-year-newer version but it still was a blast to drive on some of those upstate roadways.
In Ithaca I was able to fix up a few other small items such as bolting down the rear seats as well as putting the seat belts in. There was also the requisite MkI vs MkV photoshoot. The car was in great shape overall; the headliner was in place and everything worked as it should, short of the odometer. I noticed that the exhaust was louder than it was before and looked underneath to see that one of the connections had a loose clamp. I was okay with this. There is a certain pretentious cafe on the south corner of Cornell's campus that I happened to drive past on many occasions on my way back to my apartment. Generally in first gear at WOT.
For that next week in Ithaca I didn't even touch my MkV, as the 84 GTI was just too much fun. I loved everything about its interior from the spacious trunk to the quality of the carpet that seemed relatively clean. Trips to Wegmans were much more enjoyable with people crammed in the back seats yelling as we flew down Buffalo Street, vents and sunroof wide open, in pursuit of $5 worth of groceries. The four horn buttons were also a source of endless amusement- "But why do they all make the same sound?" I was sad that I had to drive it back to York in order to start its journey to my brother in Indiana.
Graduation came and passed (boring) and my family decided on a week we would go out to visit Graham. I was to drive the GTI and they would travel in a proper automobile: a climate-controlled Ridgeline. I left a few days before they did as I knew Graham was very excited to see his car in person for the first time. My trip happened to coincide with a terrible heat-wave that forced me to drive with windows open. All this noise and heat will get to your head after 8 hours of highway driving. And little did I know that by leaving my water bottle next to the handbrake that I was also exposing it to much exhaust heat, but I discovered this as I drank my 150 degree water in order to stay hydrated.
Finally, stupidity won and I ran out of gas. I blame a mixture of a broken odometer and heat-madness. Also I never really thought that I was getting less than 30 mpg in such a small machine. Anyway, as I was cursing the sputtering engine I saw another car pulled off the road so I decided to park right behind it. I was about a half hour from the Indiana-Ohio border and a little over two hours from Graham's place, I think. As I got out of the car to walk around I noticed that the car in front of me, a third-gen Camaro, had someone sleeping on its hood. It was a (presumably) local man who was lacking a shirt and an engine, as he had overheated it doing about 120 earlier in the day. He was very friendly and offered me some gas from his car. As he dug around for some kind of hose, the best thing we could settle on was the windshield washer tubing in the hood of the GTI… so out it came. He then proceeded to try to syphon some fuel from his tank but with no luck. I was gracious of his gesture and complete disregard for somewhat dangerous chemicals.
Things got a little interesting when a police officer showed up and ran my plates and had a quick talk as to why I was there. I basically said that I had run out of gas. This was a common issue in rural Ohio, he explained. He was nice enough to offer me a ride to a gas station at the next exit just a few miles down the highway. This required a (non-ocular) pat-down and a ride in the back of a very well air-conditioned cruiser. There were only two gas stations: a BP and a Shell. In light of recent events (hint: this was summer 2010) the officer refused to support those damn oil-spillers and we turned into the Shell's lot. I then realized that I had nothing in which to pour gasoline. I asked the officer if I could run inside quick to buy a small cannister but he insisted I use the plastic bottle I had brought with me, despite all legal warnings at the pump. I purchased about $1.50 of gas in my 32 fl. oz. lemon-lime Gatorade bottle and he took me back to the GTI. I was relieved when it started right up after pouring in the fuel and then prepared to visit the same Shell once again.
Camaro guy asked me for just a quick favor before I left- he needed to call his mom to pick him up. Apparently he'd been out sunbathing on his hood for over 6 hours and just wanted a ride home. I obliged and then called Graham to tell him I was back on track. Things could have gone worse, I suppose. I made it to Columbus, IN before sunset and met an excited Graham running out from the entrance to his apartment complex. He jumped right in the driver's seat and we took off for some spirited Indiana driving. The GTI was out of my hands.
I believe that the GTI is Graham's most functional car at the moment, and whenever I visit I make sure to drive it around as it is an incredible little hatchback. Its original square headlights and bumpers suit it well, and I'm glad he's kept the snowflakes and other original pieces intact. When we take it to events such as the STPR event in Wellsboro, PA, the GTI receives more compliments than some of the cars in the competition. I'll probably end up buying one of my own someday.
You can read Taylor's post in its original format here. It must be mentioned that Taylor is the most severely educated of the BlythBros, so please highlight all errors, grammatical and otherwise, and bring them to his attention. He recently wrote this piece on our experience at the dragon with his 2.3-16 and the GTI.
For more stories about life with our 84 GTI, 88 911, 87 2.3-16, Alfa Milano Verde, Alfa 164LS, e30s, and more, check out the BlythBros. Blog We promise not to be too bitter. Sort of.