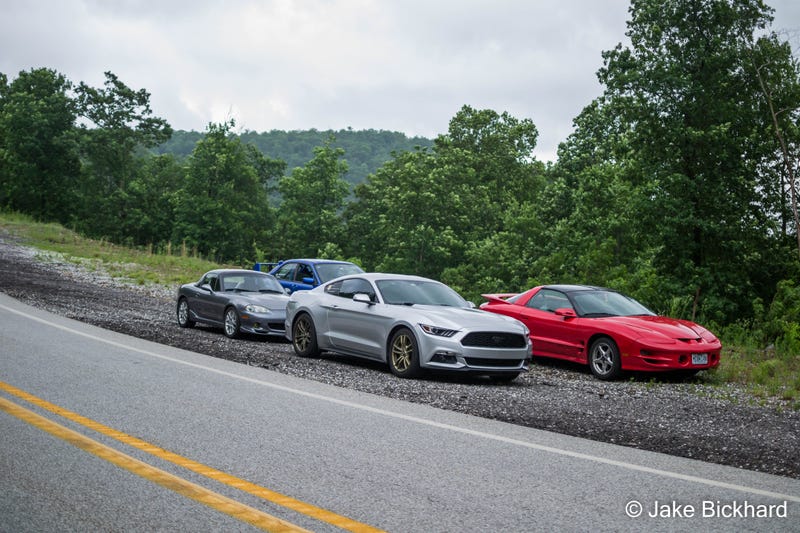 Got back from Arkansas last night. Roughly 950 miles traveled, averaged 28.45 MPG in the Miata, no breakdowns, no drama, just had a damn good time driving some great roads with friends.
We left from Cars & Coffee Wichita at around 10am.
There was this neat Sprite. Pretty much the only thing I took pictures of.
We stopped at Mo-Kan dragway on the Missouri/Kansas border. Situated in a dry county, the Kansas side of the border is home to some of the largest liquor stores I've ever seen.
Eventually we hit the Pig Trail Scenic Byway which is one of the best downhill bashes we encountered all weekend.
This video is from our last run on Sunday but it best shows the byway and is some of the more exciting driving, despite my GoPro being cheap and awful. The Fiat mentioned is a 500 non-Abarth we had seen absolutely going for it up and down the pass who finally synced his downhill run with ours and was chasing behind us. The tire squeal towards the end of that video was his, not mine. I was impressed he was able to keep up with us though we were only doing 8/10ths because public road and all.
Went to walmart and bought some stuff for camping. My cargo space where the soft top used to be came in handy.
Big car, small car, big tent, small tent. Girlfriend and I both stayed in the small tent. It was cozy but my back would have appreciated more padding.
The views from the camp site weren't bad either.
The next morning we were woken up by the most annoying sound in the universe at about 5:30am which turned out to be a Chuck-Will's Widow.
Behold our torment for several hours:
At one point we were convinced it was a car alarm.
The scenery was nice that morning.
We did some more driving, including this excellent flowing road with a lot of broad, fast sweepers
Stopped for lunch with a view
I noticed that driving behind a car with no mud flaps was taking a toll on the front end of my car. Oops.
I saw a Miata!
Bastard.
The pass down from the Cliff House Inn was fantastic:
Saw a Hyundai Accent from earlier that was going balls-out on these roads. We figured he was either having fun or figured he had nothing to lose since his life ended up with him driving a Hyundai Accent. Back up was pretty fun as well, though a bit more of a struggle for my little 1.8 liter I did manage to record all of it
Kept driving for a while. I let Michaela take over for a bit.
The scenery kept getting better
Eventually we headed home by way of Tulsa and sweet merciful heavens the Cimmaron Turnpike is one of the most godawful things I've ever experienced in my life, and who in the fresh hell has 2.75 in CHANGE in their car? Either way, the ride home was boring and straight but significantly smoother once we got into Kansas.
Made it back to Wichita as the sun was setting thoroughly tired and ready for a much-needed shower.