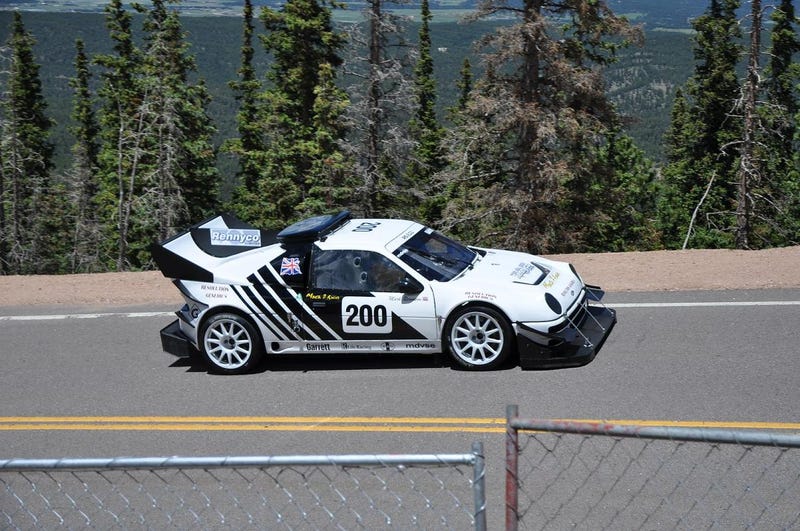 Last weekend was my first time going to Pikes Peak. Quite an amazing experience... I've watched videos but nothing can compete with actually being there. The sounds of the engines roaring past you and the smells of brakes, tires and gas in the air... just beautiful. One of my favorite moments was hearing the sound of a V8 come around the corner and expecting some big American muscle car... and then a tiny blue Porsche 914 slides into view.
This year was the first year they had spectator restrictions according to the people around me. Spectators were only allowed to view from specified viewing areas and had to remain behind chain link fences. The fences were worthless and leaned against poles or held up with twine. They offered no protection, obscured your view and made pictures come out terribly. Also the viewing areas were too small so you were crowded along with other people in bad locations. My viewing spot was on a 45 degree hill that I was constantly sliding down near the start of the Ski Area location. My ankles were a bit sore from standing at an angle for 10 hours but I managed to get some good pictures. Luckily the cars that took the correct line were on the outside and could be seen clear of the fence.
Drivers also complained about the fences and limited spectator locations. They said it looked like a ghost town and it felt like driving on the practice runs. It lacked the emotion they felt in previous years of driving up the mountain with people all along the sides cheering them on.
The fans I spoke with have been coming out for years and were disappointed. They know and accept the risks involved with spectating a sport so dangerous. A couple said they wouldn't be back next year.
Whether all these spectator restrictions are necessary, I'm not sure. As far as I know there weren't any spectator injuries. Sadly, Bobby Goodin died after crossing the finish line. It was awesome to watch him fly by on his Triumph, getting his knee an inch from the ground as he took the turn. The only other injury I heard about was Steve Wickham in the Electric RAV4. He was taken away in an ambulance but I couldn't find info on his condition or what happened.
In spite of all this, I really enjoyed the event and will be returning next year. I plan to camp the night before to claim a spot. And hopefully they'll do away with chain link fences and use a rope to section off spectating areas. It would offer the same amount of protection.
Some of my favorites:
#888 Robert Walker - 4th Unlimited Division - 2013 Scion FRS
#167 Christopher Lennon - 2nd Vintage Class - 1973 Porsche RSR
#372 Ralf Christensson - 1st Vintage Class - 1967 Ford Mustang
#2 Michael Skeen - 1st Pikes Peak Open - 2009 Nissan GTR
#1 Nobuhiro "Monster" Tajima - 3rd Electric Modified - 2014 Monster Sport E-RUNNER
#86 Bobby Goodin - 4th Middleweight Motorcycle Class - 2014 Triumph 675R
RIP.
#406 TJ Fry - 3rd Exhibition - 1995 BMW M3
He swapped the side graphic from his website to "Will you marry me?" at the last moment before the race. The car was running with a missing cylinder and he just wanted to make it to the summit where his girlfriend was waiting for him. She said yes of course.
#56 Chris Strauch - 5th Pikes Peak Open - 1973 Porsche 914
This car sounded incredible. I wonder what engine he had in it.
#326 Tim Hardy - 5th Time Attack 1 - 1987 BMW E30
#51 Aaron Kaufman (Gas Monkey Garage) - 2nd Exhibition Class - 1963 Ford Falcon
#959 Dave Carapetyan - DNF Unlimited Division - 2003 Mitsubishi Evo
The car died a couple turns before the Ski Area. I loved this pic of the crowd cheering him on as he's towed to the Ski Area lot.
#66 Masahito Watanabe (Not sure on second rider) - 1st Sidecar - LCR GSX-R1000
The sidecars were ridiculous.. the second guy would just hang out the side and lean the vehicle around the turns. It was like watching a bobsled go up a mountain.
#99 Mike Ell - 3rd PPC Quad - 2013 Rattler
#96 Brandon Tubbs - 2nd PPC Quad - 2014 REC Raceworks
Brandon Tubbs is 15 years old. The youngest person to ever complete the Pikes Peak Hillclimb.