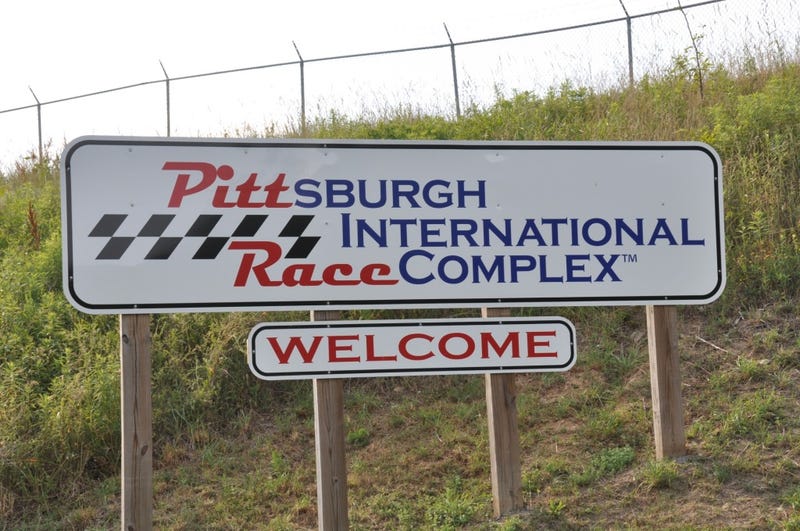 I say this after I had the chance to walk the new addition to the track, which is already paved, but waiting on curing or whatever it is that pavement has to do after being paved.
Full Disclosure: I have spent way too much $$$ on track time here over the past few years. I have no interest in the facility beyond my desire to continue giving them $$$ in exchange for a safe place to go fast. I have spent a smaller yet equally impressive amount of $$$ at the onsite hot-dog truck, and will probably continue to do so there as well.

Proof of pavement:
Mappage for reference:

What's so great about it? To summarize, it will be ~3 miles of extremely fast, flowing track, with several blind entrances, and brutal elevation changes.

On the map above, the the track starts to drop off at the red square just before T3. That begins your descent downhill. T4 is tight and steep but seems cambered so it will be fast and the exit will shoot you down the hill. Coming down into T5 will be a short and very, very hard braking zone, made even more difficult by the slight left turn. The square outside that will be the low point, and T6 will begin your ascent uphill. According to the video, the total drop is 85 ft. By comparison, the drop @ Laguna Seca from the top of the Corkscrew to T9 (the left afterwards) is 109 ft total. The difference here is that you have to slam on the brakes and U-turn at the lowest point, then immediately go back up an equivalent amount.

The square right after T6 indicates what I'm going to refer to as Excitebike Hill. Why? Remember how bikes crashed in Excitebike, by tumbling end-over-end? That's what's gonna happen here, only they will be rolling backwards from wheelies gone bad. This section makes VIR's Hog Pen seem like a molehill by comparison.

The 2nd square after T6 is a blind crest. Coming up on it all you see is sky. Better make sure you're pointed in the right direction or else things could get ugly. Also, it then starts back downhill to build speed into another hard braking zone before T7. The S sequence of T7-8-9-10 will be quick with constant back-and-forth before you join up with the old track @ T11.
Once you take into account the existing North course combined with the new South one, this will be without question the most fun, yet demanding 3 miles of pavement on the East coast. The first event to run there will be the Pittsburgh Vintage Gran Prix in July, let's hope they attract some other larger events in order to keep expanding and improving the facilities.