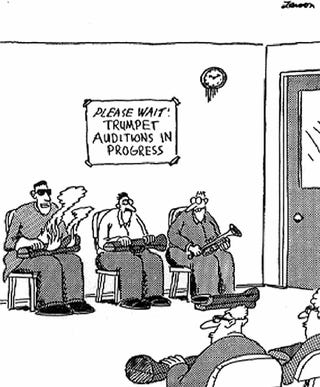 I'm auditioning for the Austin Symphony Orchestra this evening.
A few of you know that I'm a professional trumpet player. I've been playing as a substitute/extra with the Austin Symphony for a few years, but now there is an opening for a contracted 2nd trumpet position.
Orchestral auditions are weird things. They give you little snippets of important trumpet parts, called excerpts, from lots of different pieces and you have to stand on stage, screened from the audition committee, and play these excerpts completely out of context and by yourself. Each hour a certain number of people perform, and then they advance a few, or none, to the next round. It's sort of like knockout qualifying. What it really boils down to is taking almost 40 years of trumpet playing experience and condensing it into 9 minutes. And that's just the first round. Oh, and don't miss any notes, especially in the first round. One or two chipped notes and you're out. Imagine having a pole position lap in the works and then overshooting a corner or botching an apex.
Auditions can be very nerve wracking experiences, and oftentimes the person who can do well in an audition will be unable to actually do the job. I know I can do the job; I've been doing it for many years. Whether or not I can win the audition is another matter.
They say that luck is when preparation meets opportunity. Well, I'm as prepared as I can be, and this is the opportunity. Let's see what happens. But still, I think I'll need a little luck.
The cartoon is brilliant. Larson must have been a musician. In every audition, there's always that one guy (or gal). The trick is not being intimidated.