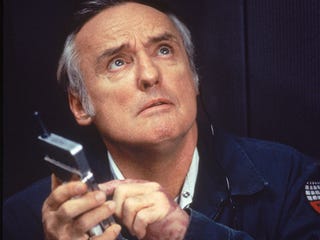 You're about to purchase the most beige of American automobiles: the 2000 Chevrolet Camry Impala.
It's literally beige.
You're Jalop. You DD an '88 S-10 that's missing half its body due to rust, and you do so because it's rear-wheel-drive and looks nothing like anything anyone else is driving in your town. You've faced the fact that the kid needs rides to school this fall, and your parental instincts tell you not to stick her in a vehicle where you can see the road through the interior and you're pretty sure the frame is days from collapse. You have a friend looking to get this (probably) running Impala the hell off his property for $300, and you took the bait.
But you're Jalop. The very idea of this thing in the driveway gives you indigestion and erectile dysfunction, but you must. So, what do you do to this thing to take the edge off?
Post-apocalyptic runner?
Family car rally car?
Le Mons?
What do you do?
Your only restrictions are, you've got to be able to get a three-year-old to school every day, in one piece. Oh, and money. Not much money.
What do you do?