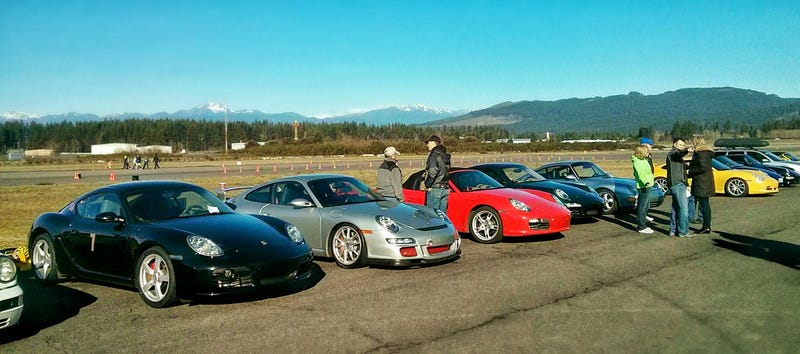 I took the 135i autocrossing yesterday at Bremerton Motorsports Park. The event was organized by the local Porsche and BMW clubs. I'd never been to a proper autocross event before and I had no idea how seriously some of these people take it. There were several fully caged race cars brought in on trailers and running on racing slicks. Good competition for my bone-stock 135i.
It's amazing how different your car feels when being driven on a track vs the street. Normally when I drive my car around town, the suspension feels a bit stiff and the steering feels pretty heavy and it seems like there's no end to the grip. Not so when I got out on the course. The 135i showed its true nature as a not racecar and the steering felt light, the suspension felt just about right, but I've never spent so much time at the limits of grip before, so it felt like I was constantly on the edge of sliding around like a maniac. Clearly there are more hardcore cars than mine, but I've got so far to go in the skills department, that I have no regrets about the 135i. It feels light (yes, I'm aware of how much it actually weighs, thank you internet pedants) and tossable with gobs of power. Just what I wanted.
How'd I do? Eh, not great. Most of the Porsches were below 50 seconds and about half of the BMW's were below 50 seconds. My best run was a 54.8, which placed me 15th out of 17. Not so good. But there were only a handful of newbs at the event, so I'm just happy I didn't run over anyone. My first two runs were within a tenth of a second from each other at around 56.8 seconds. For my third run, I had an instructor ride with me and he explained to me how slow I was going. So I went faster, spun out, and slid off into the grass. 83 seconds on that run. After taking what I learned, I shaved 2 seconds off of my time for my last and best run.
It was a great day to be a car enthusiast. I got to watch, ride in, and drive fast cars all day in a beautiful location with wonderful weather. What more could I ask for?
Oh, and there were breakfast burritos!