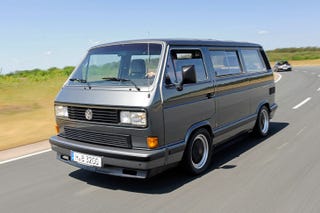 Ah, the Volkswagen Vanagon.
For me, the name 'Vanagon' conjures up images of a strung-out family camper, struggling to reach the crest of the hill on some Colorado backroad. I wouldn't be far off, considering the most powerful engine ever available in a factory euro-spec model was a wheezy 112 horsepower Flat-4. Couple this with the nearly 2-ton curb weight, and the Vanagon is no drag-strip rocket.
The T3 (Vanagon) redeemed itself in other ways, however. You could get it in nearly every variation imaginable. Its massively roomy interior design allowed the T3 to serve as a Camper, Multivan (passenger), pickup, and even spawned an all-wheel drive version called the Syncro. Sure, it was not hill climber, but it was a fun runabout for a family vehicle. You could get all the kids, cargo, luggage, and the dog in the back, and still have room to spare. Spec it out right, and you could have a seriously fun van. Think how much fun it would be to take a T3 Westfalia Syncro Camper down some trails with the family. It offered something for everyone! Why, you could even buy one with a Porsche engine.
Wait, what?
Believe it or not, 11 T3s left the Zuffenhausen factory floor with Porsche badges. Called the Porsche B32, the very existence of this astounding van is shrouded in rumor and legend.
As the legend goes, Porsche was running their epic Group-B 959 in the Paris-to-Dakkar rally, and found themselves needing a support vehicle. Relations were strong between VW and Porsche at the time, so they took two Syncro T3s, and made some performance modifications.
First and foremost, they swapped out the motor. They could have played it safe, and provided a modest power bump with the powerplant from a 944. Instead, in typical Porsche fashion, they went all-out and slipped a 3.2 Flat-6 from a Carrera into the engine bay. Power went up to 230 horsepower, and top speed raised to a terrifying 130 mph. Power was transferred through a 915 gearbox out of a 911 SC/914-6, wheels and brakes were off a 944 S, and some photos show a steering wheel off of a 964 C4.
Not content with keeping the B32 to themselves, they made roughly 9 production models as an exercise in engineering. Prices were rumored to have been far above that of a normal 911, and only a select few European dealers got their hands on them. Rumors circulate that they were prepping a cleaned-up production model for a Geneva Auto Show debut, but plans fell through.
What a shame. Imagine how much fun it would have been when the aftermarket community got their hands on the B32. Someone would swap in a 3.3 from a 930, RUF would have made a 'YellowBrick', and the rest would be history. Instead, the general public had to satiate their Porsche-Van fantasies with their own unofficial Vanagon engine swaps.
Who knows, had the B32 been a success, perhaps the world would have had the Cayenne much earlier.
All photo credit goes to autobild.de
Reposted from my blog The Piston Ring