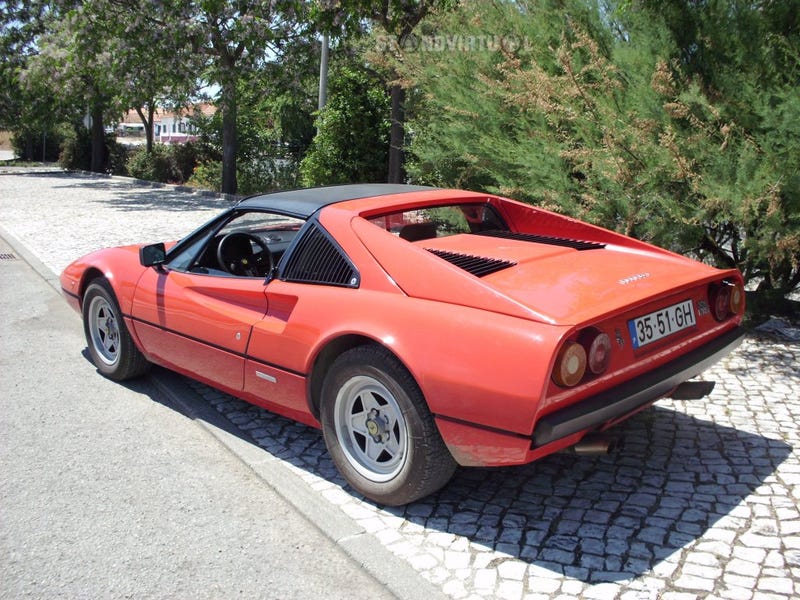 Inspired by Borsuq's similar themed posts, I've decided to start a more-or-less regular analysis of some interesting used cars and motorcycles for sale in my country. WARNING: I live in a country with plenty of taxes so it's not my responsibility if the prices flip your head off.
1982 Ferrari 308 GTSi - €33,000
Somehow it looks scruffy. A nice way of joining the MR sports car club though.
1954 Aston Martin DB2/4 - €160,000
Okay, it's not my intention to show here cars which cost more than 50,000 Euro, but I'll make two exceptions. One of these is this flawless DB2/4, which has been recently restored by the factory, complete with vintage plates. I'll probably never afford it, but still want it.
Very cheap. Ever wanted to own something utterly different? Fuck that, how hard do you want to be different?
Seller can't spell "Isuzu". Judging by his several deconstructions of the Portuguese language he's a hillbilly and this car isn't a good buy. Still, I didn't really know about it so why not mentioning it.
1990 UMM Alter (pickup conversion) - €4200
Interesting conversion of a local-made off-roader. Wouldn't personally buy it but it is nearby and the price is tempting. Taking in account that it's a reliable truck and good off road, I can't see why I shouldn't approve this, white and all.
Despite the "427" badges, this well-kept replica is powered by a 1600cc Volkswagen engine. Looks excellent, but wouldn't touch it because of the engine. Or maybe I'd dump the motor and replace it with a V8 sourced from a Ford pickup, but the price is a bit hefty for an incomplete replica that is likely to fall apart.
Not a fan of this car (I think it's an insult to the original) but the combination of green paint and golden rims is gorgeous. Price is appealing but not necessarily a steal.
1962 Simca Aronde Étoile - €5500
Judging by the information supplied, it belongs to a collector who has used the car in various events. That is good. The price is fair enough although a gee less wouldn't hurt.
2004 Dodge Ram SRT10 - €43,950
One of exactly two full-size trucks I like. Price is way, way too high for such a useless vehicle, in my pragmatic mind. However, if you happen to not give a fuck about utility, this is the ultimate ride. Over 25Gs cheaper than the 2006 SRT10 roadster for sale on the same site.
1992 Lancia Delta HF Turbo - €3900
No, this is not a legit Integrale. This is a HF Turbo which someone decided to convert into an Integrale replica. The HF Turbo was front-wheel-drive and featured a far less powerful 1.6-litre engine, producing just 150 HP (according to the seller). It is well priced, but I'd much rather spend five times as much in a real Integrale. Mileage is too high as well.
2012 McLaren MP4-12C - €240,000
I've done it again. I know that this has virtually no interest because it's so damn expensive nobody here will ever consider it, but it really is great looking, and rare. Plus...if I have a Marina here, why can't I have a 12C?
1938 Plymouth P6 Deluxe - €39,000
Seems to have been a rental before. Seller has got all the documents related to it. Price is kinda steep.
1974-1978 Chevrolet Camaro - €39,000
Seller thinks it's a 1970 model, for some reason. Looks flawless, but there are no specs about the engine. For that price, it better be a V8. (Interesting how 2nd gen F-bodies are a frequent sight in classic car ad websites here)