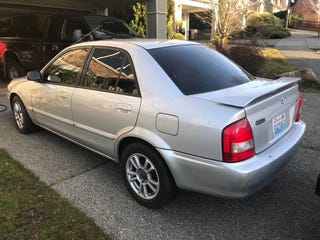 That was the title of the Craigslist ad.
So of course i bought it. Just because. And i'm a sucker for any running car for $175.
2000 Mazda protege es 1.8 automatic. 215k miles. 215k miles. Good 15" tires with koenig rims that were worth purchase price of the car and i could use anyway. Ran but missing badly and could only do about 40mph. New timing belt water pump and alternator. No battery included. Borrowed the one from my Probe and had a friend drive it home. 
The motor tested 180+ compression on all four. A $40 set of coil packs from rockauto and the motor revs out nicely. It passed WA emissions test.
This is the car's (only) pic from the ad. Makes sense as it's the car's best angle...the drivers fender and hood dont quite match colors from a previous accident repair. i also replaced one damaged passenger door with a pick n pull replacement from a newer protege. It was a different shade of silver again. :)
But its been a good commuter for now. Heat is blistering hot. its got power everything and cruise control so easy to drive. Handles well and gets out of its own way though not fast. And i can get my money back when i sell it.
The only oddity is its takes two or three twists of the key before it tries to turn over. It doesnt click or dim lights the first trie(s). It happens with multiple batteries. Is there a known issue with these cars or diagnostic procedure for this? I has voltmeter!
Thanks!