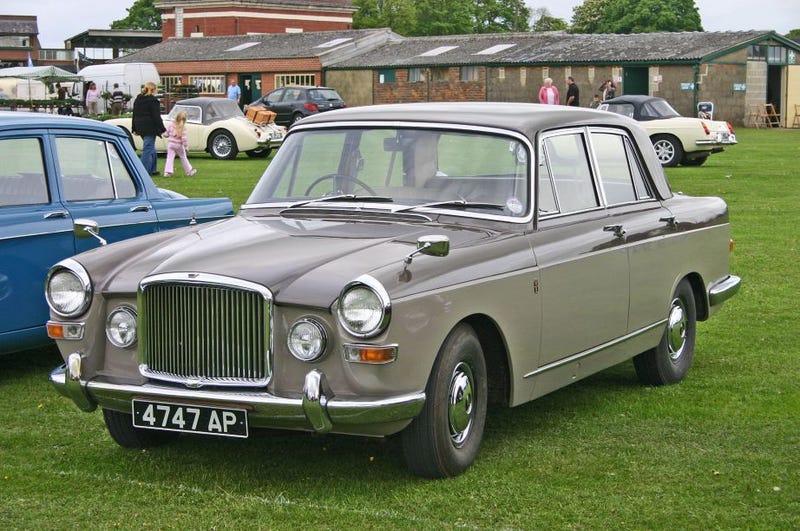 Presenting Her Royal Highness, the 1963-1968 Austin Princess 4 Liter 'R'. Featuring a bespoke Rolls Royce 3909cc engine producing a get-home-for-midnight 175hp@4,800 rpm, she is a true Sleeping Beauty sleeper car classic.
Designed as a poor man's Roller luxurious saloon car for the discerning executive, the Princess had a suitably aristocratic interior done by coachbuilder Vanden Plas. Featuring walnut fascia, fine Corinthian leather, cigar lighter, reclining front seats, and rear seat fold-down armrest, it resembles the smoking room of some fine English gentleman's club. The Princess even came equipped with a polished hardwood picnic table for the rear passengers to enjoy their wine and cheese.
Photo Credits: (Above) AustinMemories.com (Top) Wikipedia Commons
Despite a 112 mph top speed, a power-to-weight ratio that could put many contemporary sports-cars to shame and an advanced Borg-Warner automatic transmission, the Princess 'R', for some reason, saw disappointing sales in the US and Canada. Only 6,555 were built, with production terminated in 1968, just before Austin was absorbed into British Leyland.
Due to its name, potential owners of the Princess are warned to expect a certain amount of giggling and crude jokes. Straight men may also have their sexual orientation called into question.
Photo Credit: Wikipedia Commons