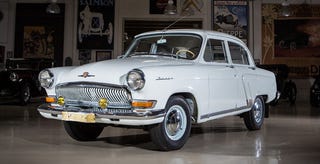 I'll leave politics aside, but I have some respect for the cars of General and Former Secretary of State, Colin Powell. He's owned some rarities over the years and some good classics which he has kept to himself. What struck me was his first car though:
His passion for cars started with the new 1961 VW Beetle he bought while stationed in Germany as a young Army lieutenant. "It was the coolest thing around, and it had a sliding roof. I'll never forget it," he says. "It was the first car my wife and I had, and we drove it all over the place."
The car at the top is a 1966 Volga GAZ-21 which he gifted to Jay Leno; a car that could be described as "an unabashed relic of the USSR: an overbuilt, unpowered, absolutely utilitarian communist conveyance."
Another notable mention is his love for Volvo's from the 50-60's, having gifted a 1977 240 to his son and having owned over 20 different Swedish cars some of which he worked on himself.
And before you scream treason, he is also a fan of American Muscle in the shape of the Corvette. He owns a 2005 model which he drove as a pace car at the Indi-500 as well as a 2013 model.
Just in case you're wondering his wife drives and loves their 1971 Mercedes-Benz 280SL Pagoda.
(Via Capitol File Magazine)