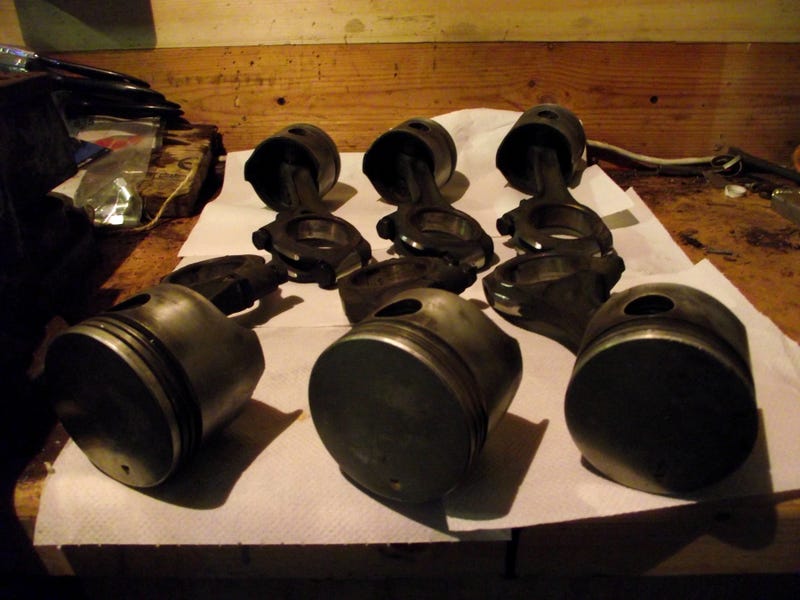 Went and retrieved the balanced pistons and rods from the workshop they were at. One was a good deal lighter than the rest of them so it's definitely been worthwhile.
You can see just how much has been taken off some of them. I wonder how high it'll rev with all of this balancing. It's only a 4-bearing cast crank, so it won't be stellar, but a stock TR6 has a 6k redline so it should be a little better than that :)
Also, the Alfa's front suspension has been crashing horribly for the past few months. I've finally had a decent enough amount of time off work to pull it apart and not really have to worry about throwing it all back together in a day.
I narrowed it down to a shot bush on the lower wishbone, so out that came with a good amount of persuasion :)
Old and busted vs new hotness:
Just look how much play there was. No wonder the front end felt loose :S
And after another bout of 'persuasion', it found its new home. But oh noes, what's that in the upper left corner...
While undoing the anti-roll bar drop link I tapped the underseal on the wheelarch and heard the telltale crunch of rusty metal underneath paint. A little scraping unearthed this:
I reckon where I'd been mucking about with the drop-link when I swapped in the GTA ARBs I must have damaged the rustproofing. That was about 2 years ago now, so about enough time for a fist-sized hole to develop. Old metal cut out, area wire-brushed, new plate fabricated and welded in place :)
Not the prettiest welds, but they'll certainly hold. Next was a coat of phosphoric acid to convert the remaining rust into powdered iron and a bit of undercoat. At this point, it was getting a bit too cold to continue as the topcoat doesn't work properly below about 10 degrees c. Tomorrow it will get two layers of topcoat and some underseal gunk. Fingers crossed that should be sufficient :)