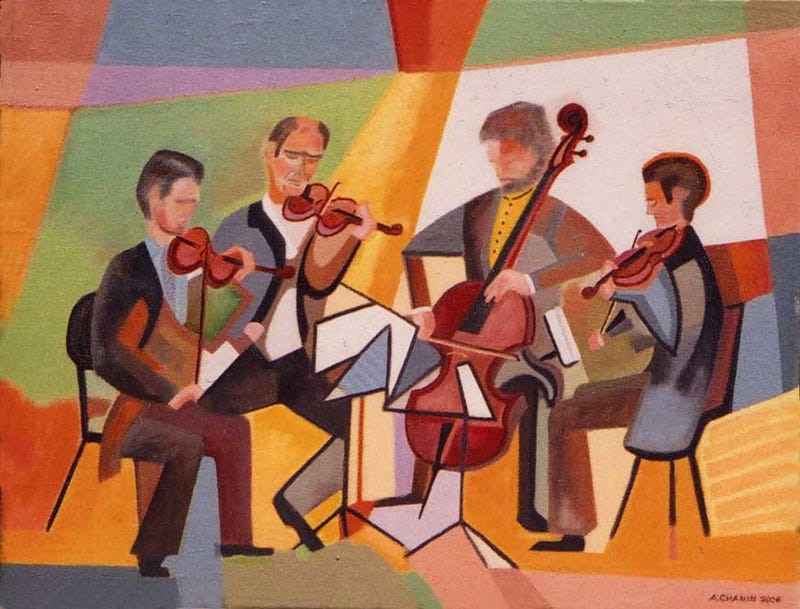 I've been working off and on a fairly substantial string quartet for quite a while. Without getting into a needless story, after meeting my fiancée-at-the-time's boyfriend, I listened to Shostakovich String Quartet 8 and said, "Yeah, I need to compose." I'm extremely pleased with how this project has matured faster than I have!
Over the last couple of weeks I got re-inspired and was able to take all the sections and sketches I had and really work things out. I can say that the 1st movement is pretty much fully composed and wonderfully rich in romantic timing, sensitive lyricism, and unrestrained harmonic flow (12 minutes). The 2nd movement is going to take me the longest to craft since I don't have the rage I had at the time but sketches I wrote give that Shostakovich a run (a solid 2 minutes of content out of 6-8 minutes). The final movement is coming along and is really a mature emotional structure so far (a solid 3 minutes of content out of 7-9 minutes).
All together it should end up just under 30 minutes across three movements and be really worthwhile. For those curious, I pretty much took the Charles Ives approach to composition and life, make a lot of money and fund my own music. I love his story as well as Robert Schumann's and they are pretty much my musical life mentors. Obviously I'm going the Ives life route over the Schumann one.
I'm just sharing because it's a big deal for me and wanted to publicly say something that way I'm committed to completing this.