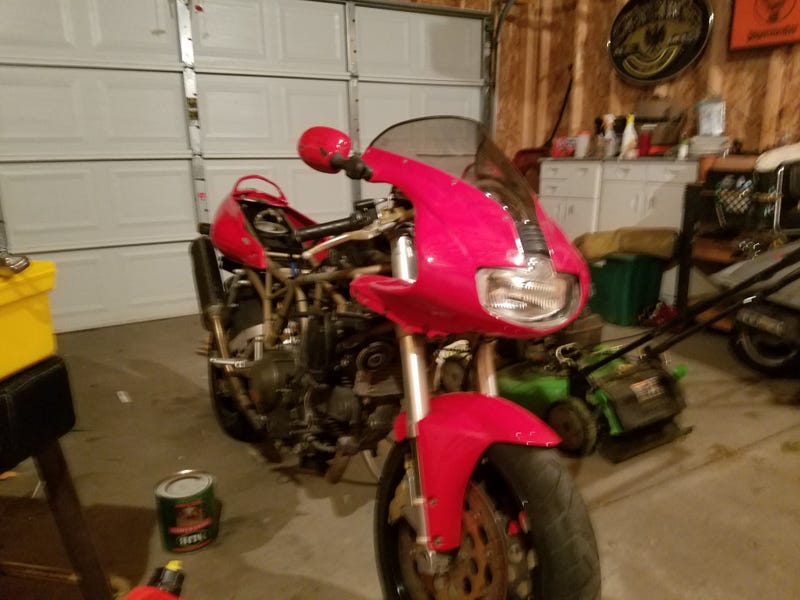 Some of you will (justifiably) call me crazy for having my N+1 number reach four, but, for $1,300 plus a three and a half hour drive to bum-fuck nowhere Wisconsin, this beautiful 1999 Ducati 900ss could have been yours too! As the bike has no title, I purchased it with only one thing in mind; race bike. Now you are probably asking yourself what moron would race an 18 year-old Ducati; and well, I am that moron.
When I was informed by a member of my local roadracing association that the general Lightweight regulations were as follows, I knew this must be done:
390cc two stroke, liquid cooled

Unlimited two stroke, air cooled
Unlimited singles
585cc multis
700cc twins
600cc, 2 valve, air cooled multis
904cc air cooled twins
1250cc air cooled, push-rod twins
Its almost like the rules were made just for this bike! This class historically has featured the venerable SV 650 as the preferred choice. The unfortunate matter is in recent years the decline of the SV has also meant the decline of lightweight racing. . . . until . . . . the recent advent of the FZ-07 (namely the FZ-07R)! Lightweight racing is becoming very popular again and I intend to catch be a part of it (in my own masochistic way, I suppose).
This is going to be one awesome (or really, really stupid) winter project. Pay attention for write-ups on the various stages of work and modifications to turn this into a race-bike. My write up on getting the bike to start for the first time in a decade (featuring a complete redo of the gas tank) should follow in the next week or two (see a teaser photo below). Stay Tuned!