She's been sitting like this for about a month as I slowly progress and order parts as needed.
Right now I've just about got the front suspension wrapped up. That includes: new lower control arms, new steering damper, drag link w/assorted hardware, tie rod adjusting sleeve, tie rods and pitman arm link joint. I still need to do the shocks (ugh).
Tonight, I started on the front brakes. Ol' Murican brakes are so easy. Especially when I don't have to take off the caliper bracket to remove the rotor!
After I get all 4 corners done, it is off to get new tires and an alignment.
Then, frame stiffeners. It needs them desperately. I'm hoping they will suffice for all the rust "damage" underneath. These weld to the existing unibody frame rail sections and reinforce the chassis. They'll be going right over the trouble spots too.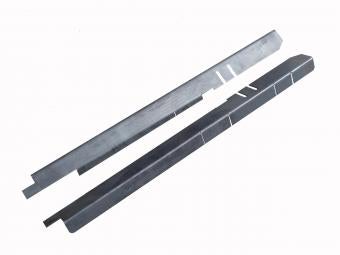 https://www.tntcustoms.com/jeep_parts/jee…
Oh yeah, I've decided to let go of my 2001 Audi A8L. I just cant afford two "project" vehicles. I'm gonna miss that 4.2 V8.