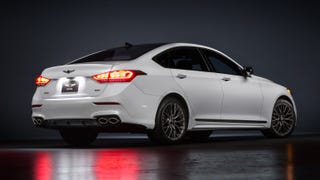 I warned you all about buying a US-spec 2017 Genesis G80. Well for the 2018 model year, all Genesis G80s are getting the refreshed front end, new wheel designs, upgraded interior materials, new gear lever, and all the great stuff that should have came before they started delivering "new" Genesis G80s that still had the Hyundai badging on them. But it wasn't the refreshed G80 or the 365 hp, twin-turbo V6 G80 3.3T Sport that proved Genesis is thinking differently.
It's the fact that not only are they keeping the 5.0 Tau V8 option, but they are also going to make the $2,500 HTRAC AWD system available not just For Canada but the US as well! That is the first decision I have seen that shows Genesis being a new thing, a premium brand.
Here's the news on the 2018 Genesis G80 lineup. Yeah, this spin off thing is getting real now! Looking at the Genesis 3.3T Sport's badging I'm also seeing that this may be a trim (not a model) and they could very likely release a G80 5.0 Sport. That's the makings of "R-Spec" coming back in a new upmarket form!
It's the little things you do, Genesis, that tells me how much you care.
*I'm going to pass on writing part 2 of "Did I Tell You How I Passed Up Buying a New Porsche Cayman for a Used Kia Amanti?" At least until I have a long enough break to tell an EXTREMELY embarrassing story, for me. The first part is cute and funny but this second part is just awkward and sad... I'll have to be in a good humor mood so don't wait up for it.