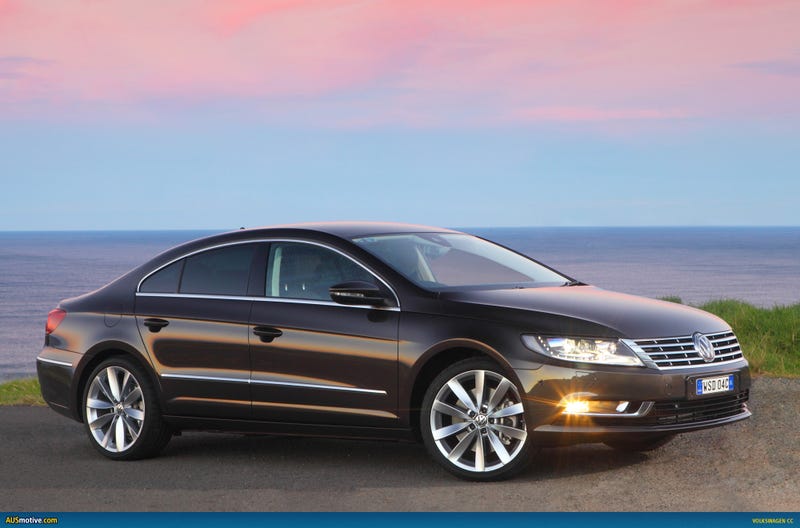 Gather round the fireplace kids, grab some marshmellows. Gramps has a story to tell.
Last year one of my buddies from university graduated as well. He already had a job at Borg Warner, but having a degree and the fact that he now can work full time bumped him up a few paygrades. Given that his wife had graduated a few years earlier and already had a good job, he decided to get himself a little graduation present. They already had two cars they were making payments on, but what the eff? Why not live large? So he got a pre-owned VW CC Diesel with the flappy pedals and this lovely two-tone interiour:
A beautiful car, and he was in love! It was his baby! Not the wisest decision when it comes to finances, as they now had this and a highly specced MK6 Golf they were both under water on the loans on. But hey, who am I to judge? I chose to drive a Japanese car that is now 15 years old, but was mine from day one.
But I am digressing. Did you notice that I am using the past tense? So let's move forward about two months. The night of July the 14th to be precise.
Everybody was watching some guys viciously kick an innocent ball that never did anything to provoke this.
Someone won and my friend was very happy about that, so he celebrated, and then celebrated some more. At some point in this celebration he thought that it would be cool to join in with the usual outdoor celebrations.
There's a blank spot in his memory here. The next thing he remembers is the airbags going off. Looks like he was speeding through some industrial estate, hit a rock that catapulted him into a parked car. He and his passenger were fine, the car was not. Complete write-off. € 30K of some bank's money written off with one stupid decision!
The blood sample showed an alcohol content of 0.18% in his blood. You don't simply achieve this with some good old German beer, there must have been some hard liquor involved.
Of course, with this amount of intoxication, the insurance company can deny any claims. His father in law is a lawyer and he is working hard to soften the blow, but as it stands right now they might be liable for the € 35K of damages on both cars.
Of course, he also lost his license. It's not just suspended. To get it back he will have to go through medical and psychological testing. In a year or two! Unfortunately this is a rigged game in Germany, as the companies involved (the notorious TÜV for example) charge around € 500-1000 for every try. So of course, they have an interest in letting applicants have to do it over and over again.
I only learned about this last weekend when I met them. Right now I am torn between "poor guy" and "effing idiot got what he deserved". He could have killed somebody!
I love to drive, and I love to have a little drink. Right now, I'm having a lovely Italian Pinot Grigio. Grauburgunder is just my kind of grape, but there is no way you could get me to drive my car right now.
The situation is pretty bad for my buddy right now, but maybe we can all learn something from this. When in doubt throttle out get a cab!