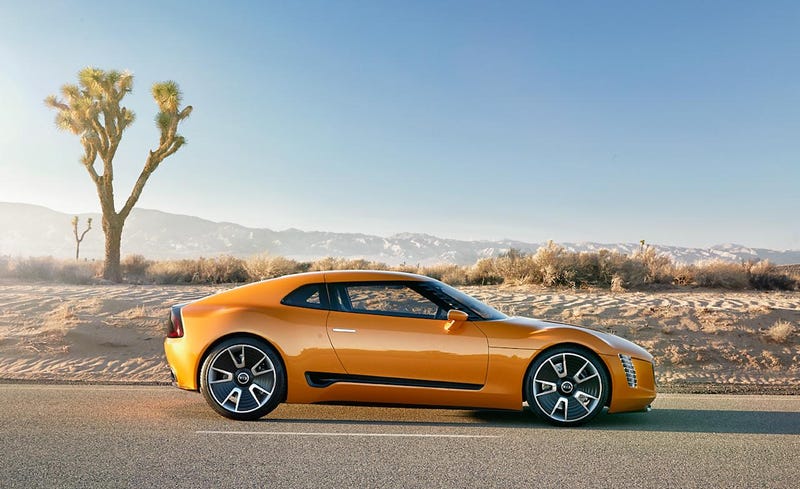 There is no Miata/86-fighter coming out in the third quarter of next year. The production vehicle known as the Kia GT is based on the 2011 Kia GT Sedan Concept, NOT the 2014 GT4 Stinger Concept. The Kia GT being reported is a 4-door coupe that will be around the size of an Audi A5 Sportback or BMW 4 Series Gran Coupe. This sedan may receive the "Stinger" name since it was well recieved, plus Kia GT Stinger has a unique ring to it.
Yes, the upcoming Kia GT sports sedan will have the 311 hp, 3.8L V6 and the new 365 hp, 3.3T V6. The 8-speed auto is a given while a 6-speed manual is a possibility. Due to Holden and Ford ending production in Australia, Kia may have this sedan slot into the upcoming blank space in their market. This also means that it will get some much needed enthusiast cred, especially considering it will supposedly start at $29k for the 3.8L and $37k for the 3.3T. That means this sedan will be playing a lot of roles for the Kia brand. It will be trying to be the more practical choice to a lightly optioned Mustang Ecoboost or 4-cyl Camaro in its base form. At $32k it will be acting as a 435i (called 440i for 2017 MY) Gran Coupe with $15k off the sticker price. At $37k to $42k it will be attempting to be like an Infiniti Q50 Red Sport 400 with a $10k-plus discount. Or you can see the entire lineup as being the Chevy SS Sedan's missing lower trim levels (but set more for luxury instead of sport).
Basically the upcoming Kia GT "Stinger" will be to Kia what the CTS was for Cadillac, the new face of the brand. Much like Cadillac though, it will actually be the model that is the complete opposite of the brands new direction which becomes the household name. We all know Cadillac is the Escalade and Kia is...the Soul. Great car, but for none of the reasons that they can build a brand off of.
This was just a heads up since nearly all publications are getting extremely confused information. Understandable because the 3-Series fighting Genesis G70 sedan is being made and released on top of this A5 Sportback styled Kia GT Stinger sports sedan, all while a new Hyundai Genesis Coupe is being developed for release just after these two RWD sedans, AND a lightweight 4-cyl sportscar is being considered (though one of the small FWD cars is going to end up handling that market).
Either way, we definitely have three all new RWD cars coming out next year from Korea. One definitely with a manaul, one with a possible manual because Australia (plus NA and Euro will give the car better reviews just for making it available), and the other will definitely be without a manual. That means no 311 jp or 365 hp BRZ-fighing Kia sportscar with optional AWD and a manual will be coming out next Fall starting at under $30k. Sorry! At least the used car market will be pretty sweet in 2019!