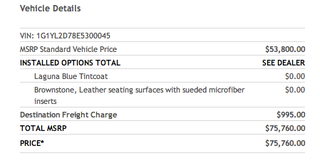 That's a basic 1LT 2014 Corvette. The price for those is a fairly reasonable $53,800. This dealer want twenty one thousand over MSRP for the luxury of owning one. I mean I know it's sexy, especially in Laguna Blue Tintcoat, but that's a bit excessive don't you think?
But then again...look at what you get:
NO! No...It's still wrong!